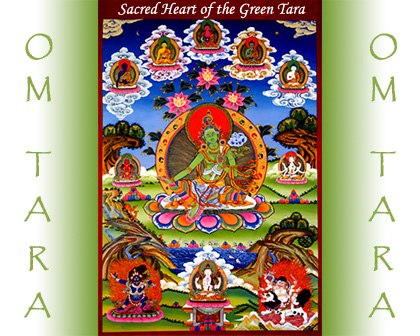 As the Mother of all Healing, the Green Tara shelters All beings in Her Loving embrace and is the Spiritual Bestower of all Health, Upliftment and Well-Being.

The loving embrace of the Goddess Tara radiates outwardly as Kindness, Compassion and Healing for All from worldly or spiritual concerns.

May the powerful blessings of Peace, Health, Wealth and Love be Yours.

May the prayers of all Bodhisattvas and the blessings of all Spiritual Beings enter your heart and hold in their hands all your precious needs. May all your needs be exactly what you intend and may your intentions move in you, from you and return to you with the strength and the power of Living your Life as Divinity Now! So be it!



" May the wicked become good,
May the good obtain peace,
May the peaceful be freed from bonds,
May the free set others free."
- Prayer of a Bodhisattva
Namasté
Om Tara Tare Tam Svaha
Pnum: 114643
Thank you GuruDev for protecting our apartment building from our neighbors' fire this afternoon. Thank you that everyone is safe and not harmed. Thank you for the caring camaraderie and our neighborhood residents who alerted us and the other residents in our four apartment complex of the fire.Thank you that our courageous firefighters responded in minutes and put out the fire. May all people be blessed and safe in their homes. Peace on Earth and Everywhere for All Living Beings Nam MyohoRengeKo

Om Tara Tare Tam Svaha
Pnum: 114642
Om Guru Om~I come in gratitude again today Mafu. Thank you for calling my name. Thank you for calling it long enough that I could hear, listen & respond. May I always hear your call from within me, always. Thank you for blessing all our lives with the sweet wisdom on compassion, love, tolerance, respect and dignity. Thank our for always loving us, even in our most challenging moments. Thank you for knowing me. Thank you that I know you. At your feet I bow always and forever. I love you Mafu.

Om Tara Tare Tam Svaha
Pnum: 114641
My Beloved Father, Beloved GuruDev Isa Mafu, blessed Ammaji, i prayer w YOU for Joy & her family' Health Issues:the mrsa on 3yrold Audrey' L.calf clears & Completely HEALs never to return~ Yes!. the underlying cause of skin irritation, rash on Katlyns upr R.chest becomes known, Heals easily~ Yes!. the infection in Greg' knee clears Immediately, Swiftly to allow the reparative surgery to go forward; he recovers swiftly w rehab ~ Yes! Ralph conts w superior care & Joy rests Well. NMRK NMRK TYGod


Back to Top