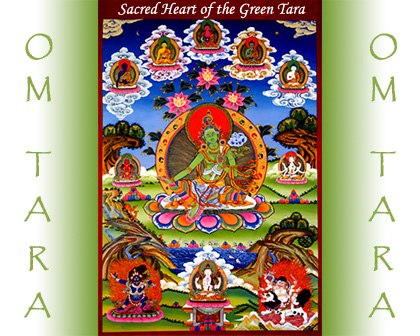 As the Mother of all Healing, the Green Tara shelters All beings in Her Loving embrace and is the Spiritual Bestower of all Health, Upliftment and Well-Being.

The loving embrace of the Goddess Tara radiates outwardly as Kindness, Compassion and Healing for All from worldly or spiritual concerns.

May the powerful blessings of Peace, Health, Wealth and Love be Yours.

May the prayers of all Bodhisattvas and the blessings of all Spiritual Beings enter your heart and hold in their hands all your precious needs. May all your needs be exactly what you intend and may your intentions move in you, from you and return to you with the strength and the power of Living your Life as Divinity Now! So be it!



" May the wicked become good,
May the good obtain peace,
May the peaceful be freed from bonds,
May the free set others free."
- Prayer of a Bodhisattva
Namasté
Om Tara Tare Tam Svaha
Pnum: 114240
Please uplift the consciousness of humanity to compassion for all animals. Please guide us in right thinking and begin treating all animals, especially farm animals and working animals with great compassion, kindness and dignity. Please help us end all cruelty on our planet. I pray all domestic animals are blessed with loving homes and medical attention. Please end all games and sports that use animals and abuse them. Please help these precious beings. Thank You God. Nam Myoho Renge Kyo.

Om Tara Tare Tam Svaha
Pnum: 114239
Please protect the immigrant children being held captive and guide all who are caring for them to be compassionate, loving and kind. Please heal their minds, bodies and hearts. Please dry their tears. I pray with all my heart for each child to be returned to those who love them. I pray they are safe. Unharmed. Free. This cruelty must end. Please help all Americans rise up and demand their release and return. Please help us impeach donald trump. So be it, thank You God. Nam Myoho Renge Kyo.

Om Tara Tare Tam Svaha
Pnum: 114238
Thank You for blessing Helene A. with sustainable healthful longevity. Please remove anything from her body that does not serve Life. Please guide her medical team to the precise right diagnosis and swift accurate medical treatment that will bless her with complete healing and perfect recovery. I pray Helene easily receives all our prayers and healing energies and uses them as fuel for her perfect healing. Please bless Eric with faith and strength. Thank You Mafu. Aum Guru Aum Guru Aum Guru Aum

Om Tara Tare Tam Svaha
Pnum: 114237
In Mafu's divine love and infinite grace, I pray for my sister's friend Maggy, 78 yo, who lost her beloved daughter in 2 days from septicemia. This is the second daughter she loses, the first one killed herself after her parents divorce when she was very young, Maggy needs prayers to heal and return to Hawaii where she raised her family. please pray for her to win in a lottery form affordable lodging so she can go back home. So be it! So it is done! So be it!

Om Tara Tare Tam Svaha
Pnum: 114236
Beloved Father ILove You. Jodi D needs Your Love this morning Father. She is overwhelmed with the loss of a close friend. Please surround her now in Your Healing Light. I pay she is sorted in Good Grace as she grieves. May the blessings of Nammyohorengekyo fill her bring now and forever more. Nammyohorengekyo Nammyohorengekyo Nammyohorengekyo Nammyohorengekyo Nammyohorengekyo Nammyohorengekyo Nammyohorengekyo Nammyohorengekyo Thank You God Thank You Goddess Thank You Guru Aum Namah Siva Aum!


Back to Top