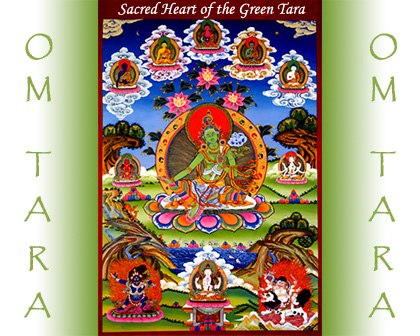 As the Mother of all Healing, the Green Tara shelters All beings in Her Loving embrace and is the Spiritual Bestower of all Health, Upliftment and Well-Being.

The loving embrace of the Goddess Tara radiates outwardly as Kindness, Compassion and Healing for All from worldly or spiritual concerns.

May the powerful blessings of Peace, Health, Wealth and Love be Yours.

May the prayers of all Bodhisattvas and the blessings of all Spiritual Beings enter your heart and hold in their hands all your precious needs. May all your needs be exactly what you intend and may your intentions move in you, from you and return to you with the strength and the power of Living your Life as Divinity Now! So be it!



" May the wicked become good,
May the good obtain peace,
May the peaceful be freed from bonds,
May the free set others free."
- Prayer of a Bodhisattva
Namasté
Om Tara Tare Tam Svaha
Pnum: 114445
Please surround with Your Divine protection and love, all the immigrants, and immigrant children, being held in captivity at our borders. Please help those caring for them to do so with great integrity, kindness and compassion. Please remove from the children's minds, hearts and bodies all physical and emotional traumas. Please help us end this cruel tragedy and create a compassionate system to care for those seeking asylum here. This is not who we are. Thank You God. Nam Myoho Renge Kyo.

Om Tara Tare Tam Svaha
Pnum: 114444
Beloved Ones, thank You for helping America reveal what needs to come to the Light and be uplifted. I pray that this process comes to a successful, powerful conclusion soon, that results in the impeachment of Donald Trump and his criminal cohorts. Please bless with strength and safety those who are steadfastly helping to reveal the truth. Please open the minds and hearts of all Americans to see clearly what is Right Action for our country at this critical time. Thank You God. Nam Myoho Renge Kyo

Om Tara Tare Tam Svaha
Pnum: 114443
I pray for peace on earth and everywhere for all living beings. Please heal America, Afghanistan, Syria, Yemen, the Middle East, Mexico, Central America, Russia, China, No.Korea, our World. May all suffering be uplifted. I pray for all pure water, healthy food, right medicine, safe shelter, clean air, justice, tolerance, compassion, forgiveness, Awakening, equality for women, protection for children, compassion for animals, healing for our planet and all Life. Thank You God. Nam Myoho Renge Kyo.

Om Tara Tare Tam Svaha
Pnum: 114442
Thank You for blessing our Foundation with sustainable financial wealth and 67 million dollars. Thank You for our many donations that bless us with all we need and more to share. I pray this for all who serve God and bring love and upliftment to Life, that they are able to receive all the financial support needed to bring the greatest Light. Please help us release all negative thoughts about money and receive it as the love and energy it is. So be it, thank You God. Nam Myoho Renge Kyo.

Om Tara Tare Tam Svaha
Pnum: 114440
My beloved Mafu, my dearest Ammaji thank you to you and everyone for your prayers and chants and support for my Papa. His back is healing well post surgery & he is home from nursing care facility. Thank you for his safety when he was mis-medicated and thank you for his continued easy, pain-free recovery with health, strength and balance. I pray for all seniors to be well cared for and supported. Thank you thank you thank you.


Back to Top