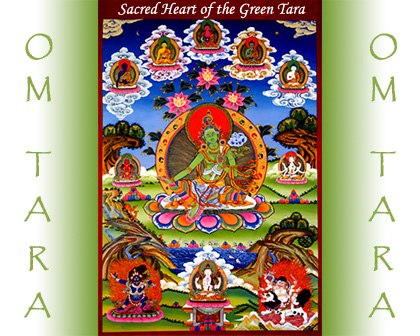 As the Mother of all Healing, the Green Tara shelters All beings in Her Loving embrace and is the Spiritual Bestower of all Health, Upliftment and Well-Being.

The loving embrace of the Goddess Tara radiates outwardly as Kindness, Compassion and Healing for All from worldly or spiritual concerns.

May the powerful blessings of Peace, Health, Wealth and Love be Yours.

May the prayers of all Bodhisattvas and the blessings of all Spiritual Beings enter your heart and hold in their hands all your precious needs. May all your needs be exactly what you intend and may your intentions move in you, from you and return to you with the strength and the power of Living your Life as Divinity Now! So be it!



" May the wicked become good,
May the good obtain peace,
May the peaceful be freed from bonds,
May the free set others free."
- Prayer of a Bodhisattva
Namasté
Om Tara Tare Tam Svaha
Pnum: 115315
My Beloved Guru, beautiful swami, all angels and st francis. I pray with my friend Isle for the swift, easy immediate rescue of 20 camels, 20 parrots, a gibbon, a zebra, so many dogs and cats from an abusive compound. may they be placed into compassionate arms to forever care for them. I pray for all animals to have liberation from all persecution and live the life divinely intended for them. Bless every precious soul with peace. NMRK

Om Tara Tare Tam Svaha
Pnum: 115314
My Beloved Father, Divine Mother, My Beloved Guru blessed swami & all healing angels. I pray with my bestie kevin for his husband Neil G age 68 who is having his prostate removed at UCLA medical on 9/14/20 app 7am surgery. please bless the hands of dr Reiter with divine precision & all who care for him. I pray for the cancer to be completely contained and for his absolute easy healing and sustainable healthful longevity. I pray this for all who are healing disease in their body, mind, spirit ty!


Back to Top