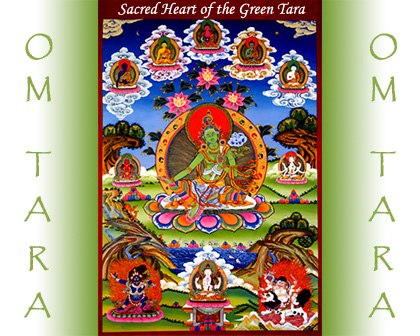 As the Mother of all Healing, the Green Tara shelters All beings in Her Loving embrace and is the Spiritual Bestower of all Health, Upliftment and Well-Being.

The loving embrace of the Goddess Tara radiates outwardly as Kindness, Compassion and Healing for All from worldly or spiritual concerns.

May the powerful blessings of Peace, Health, Wealth and Love be Yours.

May the prayers of all Bodhisattvas and the blessings of all Spiritual Beings enter your heart and hold in their hands all your precious needs. May all your needs be exactly what you intend and may your intentions move in you, from you and return to you with the strength and the power of Living your Life as Divinity Now! So be it!



" May the wicked become good,
May the good obtain peace,
May the peaceful be freed from bonds,
May the free set others free."
- Prayer of a Bodhisattva
Namasté
Om Tara Tare Tam Svaha
Pnum: 115127
I pray for peace on earth and everywhere for all living beings. Please heal America, China, So. America, Central America, Mexico, Afghanistan, Russia, South Korea, Italy, our whole planet. Please uplift all the suffering and bless us with the cure, the vaccine, the end of this terrorism. I pray for all pure water, healthy food, right medicine, safe shelter, clean air, equality, strong healthy bodies, kindness, mental health, happiness and peace of mind. Thank You God. Nam Myoho Renge Kyo.

Om Tara Tare Tam Svaha
Pnum: 115126
Thank You for blessing our Foundation with sustainable financial wealth and 67 million dollars. Thank You for our many wonderful donations that bless us with all we need and more to share. Thank You for blessing Ammaji with strength, comfort and healing in her body, consistent deep healing sleep, prayers answered to their highest potential, great happiness and sweet peace of mind. Please bless OTS with protection, abundance, safety, peace, health and joy. Thank You God. Nam Myoho Renge Kyo.

Om Tara Tare Tam Svaha
Pnum: 115125
Please send miracles to all who need them during this difficult, impossible time. I pray for all parents to be blessed with enough food, medicine and clothing for their children. Please let no one be hungry or lose their home. May all homes be blessed with peace and harmony. Please bless all domestic animals with food, water and the care they need. May our Nation rise up and share our great wealth with everyone. May the greed cease. Please end this now. Thank You God. Nam Myoho Renge Kyo.

Om Tara Tare Tam Svaha
Pnum: 115124
Please surround each soul preparing to pass to the Light with Your peace and comfort. I pray for them to feel Your presence, Your love and Your grace. I am so sorry they are dying alone and I pray they feel You holding their hand. I pray they feel the love and prayers of those who love them. Please bless each one with an easy, swift passing to their highest Heaven, as they are held in the arms of the God they worship. Can You send peace to those who love them? Thank You God. Nam Myoho Renge Kyo.

Om Tara Tare Tam Svaha
Pnum: 115123
My Beloved MAFU in your grace and highest healing angels I pray for my sister MARLENE'S who is having micro surgery on her back today May 11 at 3:30 p.m in Arizona ,Surgeon Dr. Steingart May her surgery be completely successful & her recovery comfortable easy & resolves in complete healing.May her Surgeon & all who attend to Marlene do so in great kindness caring & love.May her surgeons hands be guided by expert skill and your divine healing 🙏🏻love. In great gratitude thank you MAFU.💕🙏💕


Back to Top