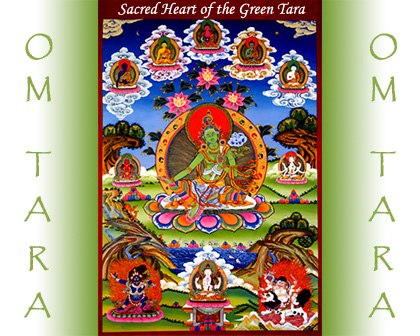 As the Mother of all Healing, the Green Tara shelters All beings in Her Loving embrace and is the Spiritual Bestower of all Health, Upliftment and Well-Being.

The loving embrace of the Goddess Tara radiates outwardly as Kindness, Compassion and Healing for All from worldly or spiritual concerns.

May the powerful blessings of Peace, Health, Wealth and Love be Yours.

May the prayers of all Bodhisattvas and the blessings of all Spiritual Beings enter your heart and hold in their hands all your precious needs. May all your needs be exactly what you intend and may your intentions move in you, from you and return to you with the strength and the power of Living your Life as Divinity Now! So be it!



" May the wicked become good,
May the good obtain peace,
May the peaceful be freed from bonds,
May the free set others free."
- Prayer of a Bodhisattva
Namasté
Om Tara Tare Tam Svaha
Pnum: 115371
Beloved Guru, Holy Mother, Holy Spirit, I pray for my Mom, Olga Lopez that she may have peace and comfort as she enters her last days. She has been blessed with 95 years of robust life; the matriarch to 5 generations. I pray her favorite St. Jude be with her & that Jesus & his Blessed Mother receive her. Thank you to all who would pray for her. Thank you to my most precious Guru and Beloved Ammaji who give me strength. I humbly ask the same for anyone preparing for the passing of a loved one.

Om Tara Tare Tam Svaha
Pnum: 115370
HAPPY BIRTHDAY SWAMI! May the coming year be the best yet. We love you SO much!

Om Tara Tare Tam Svaha
Pnum: 115369
Dearest Blessed Ammaji, Happy Birthday! Thank you for all that you are, and all that you do for everyone and our planet. We cherish you and send you our very deepest love and respect. We wish you every happiness and blessings for this coming year. We celebrate you in our hearts every single day.

Om Tara Tare Tam Svaha
Pnum: 115368
Precious Ammaji, may you have a most wonderful day celebrating your momentous birth as we celebrate with you & laud the High Heavens & our Beloved of Beloveds Mafu for bringing you to us & us to you to share love & support during this momentous time on this planet. Blessed Be you, sweet & rare gem, with great happiness & all your heart desires Allways. You are cherished. May you always know that is true. A million thank you's and would never be enough. With love and deep respect. Hare! Amen. SBI

Om Tara Tare Tam Svaha
Pnum: 115367
Blessed Ammagi On this special day I would like to pray for the complete healing of our blessed Ammagi

Om Tara Tare Tam Svaha
Pnum: 115366
I pray for our precious Ammaji today on her birthday that she is always showered in grace. May her life and the lives of all those she loves (human & animal) be blessed and kept safe. May she always be healthy and move into greater & greater spiritual awakening. Thank you for all that you have done for all of us and the planet. May you feel all of our love now and every day. God Bless you always. Thank you, Thank you, Thank you.

Om Tara Tare Tam Svaha
Pnum: 115365
For our dearest, most cherished SWAMI Ammaji on this auspicious anniversary of her birth! Happy, happy birthday precious Ammaji! Celebrating and giving thanks for you, to your parents and ancestors and to our Beloved GURUDEV for choosing his most brilliant Oracle! Thank you for all you do, how you serve! Mankind is greater that you have come! HARE! Wishing you and all you love sustainable healthful longevity, wealth and peace! God bless you always! I love you! Namaste! AUM SANTI SANTI SANTI AUM!


Back to Top