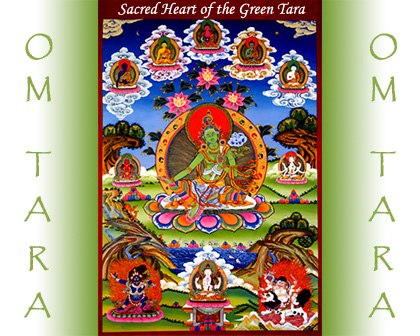 As the Mother of all Healing, the Green Tara shelters All beings in Her Loving embrace and is the Spiritual Bestower of all Health, Upliftment and Well-Being.

The loving embrace of the Goddess Tara radiates outwardly as Kindness, Compassion and Healing for All from worldly or spiritual concerns.

May the powerful blessings of Peace, Health, Wealth and Love be Yours.

May the prayers of all Bodhisattvas and the blessings of all Spiritual Beings enter your heart and hold in their hands all your precious needs. May all your needs be exactly what you intend and may your intentions move in you, from you and return to you with the strength and the power of Living your Life as Divinity Now! So be it!



" May the wicked become good,
May the good obtain peace,
May the peaceful be freed from bonds,
May the free set others free."
- Prayer of a Bodhisattva
Namasté
Om Tara Tare Tam Svaha
Pnum: 115856
I pray with deepest gratitude for our brother on our spiritual path, David G. Thank you for your pure spirit and sweet soul, always offering support to all in small & large ways. Thank you for being such an example of discipleship, always serving the Guru with such devotion. May you always be blessed. May you be merged forever with Mafu, with Love in the highest Light. May your physical & spiritual family find comfort and peace at this time. God Bless you always. Nam Myoho Renge Kyo

Om Tara Tare Tam Svaha
Pnum: 115855
Beautiful David, both our hearts are with you and we send you all of our love & support. We pray that you are comfortable and at peace and we know that you are surrounded by your angels and guides and the love of yours and our Beloved. We have so many memories and hold so much love in our hearts for your kindness, dedication and generous, loving, shining spirit. We pray for you and all those that you love, and love you. Thank you for being such an integral part of our journey with our Beloved.

Om Tara Tare Tam Svaha
Pnum: 115854
My Beloved of Beloveds Mafu, Beloved Ammaji, I join my heart in prayer with our Loving Family on behalf of our incredibly precious brother David who embodies the Goodness of the One We Are. I feel so blessed to know you dear brother on the Path & I want to tell you thank you for the many times you uplifted me on my journey to Self Realization with your shared insights at just the times I needed them. Bless your Radiant Heart Forever and Always. So It Is. So It Is Done. TYG. Much Love, Prem

Om Tara Tare Tam Svaha
Pnum: 115852
O, my beloved Mafu and beloved Ammaji....Thank you for your unlimited love in assisting David G on his path to the Light. As the shock and deep mourning rumbles in my heart and soul, I am only comforted knowing he is in your hands and that there are no hands of greater mercy and grace than yours. David, you are the quintessential hero who made everyone's life better that you came. I bow to you, my dearest brother of the One. I love you in infinity & beyond.


Back to Top