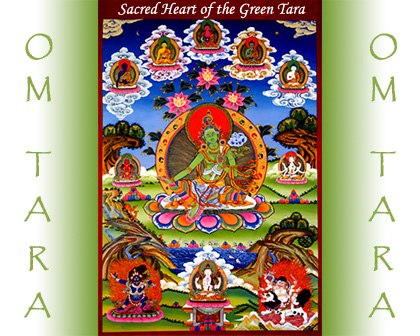 As the Mother of all Healing, the Green Tara shelters All beings in Her Loving embrace and is the Spiritual Bestower of all Health, Upliftment and Well-Being.

The loving embrace of the Goddess Tara radiates outwardly as Kindness, Compassion and Healing for All from worldly or spiritual concerns.

May the powerful blessings of Peace, Health, Wealth and Love be Yours.

May the prayers of all Bodhisattvas and the blessings of all Spiritual Beings enter your heart and hold in their hands all your precious needs. May all your needs be exactly what you intend and may your intentions move in you, from you and return to you with the strength and the power of Living your Life as Divinity Now! So be it!



" May the wicked become good,
May the good obtain peace,
May the peaceful be freed from bonds,
May the free set others free."
- Prayer of a Bodhisattva
Namasté
Om Tara Tare Tam Svaha
Pnum: 114410
Beloved father, Lord Isa Mafu, precious Amagi. Please bless my beloved friend Brian Saul, his family and those that new and loved Brians Dad as he passes to the light under tragic circumstances late last night here in Australia. Wrap your love around the sacredness of their Father Son Journey. Bro my heart is with you my friend.

Om Tara Tare Tam Svaha
Pnum: 114409
Beloved GURUDEV, Blessed Swamiji, Great Buddhas & Light of Reiki..i give thanks for my life, for this Way, for our precious world and all in it. thankyou for all the opportunities to serve in your name. thankyou that i get to come 'home' for a little visit to rest in your arms a moment...i long for that...thankyou for all the blessings in my life and Your continued Presence, Grace, Love, Inspiration and Guidance...i truly know no way to thank you except to keep going because i can... thank you

Om Tara Tare Tam Svaha
Pnum: 114408
Beloved GURUDEV, Blessed Swamiji, Great Buddhas & Light of Reiki...thankyou for your blessings, healing light and love filling and uplifting for sweet Baylyn, for Daisy, for Susan and all her family, for all healing their precious bodies, minds, hearts and souls...may we all fill with the Love of Life and Light You Are, may all know their goodness, kindness and wholeness, may all be free from suffering ~ NAM MYOHO RENGE KYO NAM MYOHO RENGE KYO NAM MYOHO RENGE KYO NAM MYOHO RENGE KYO ~ Thank you


Back to Top