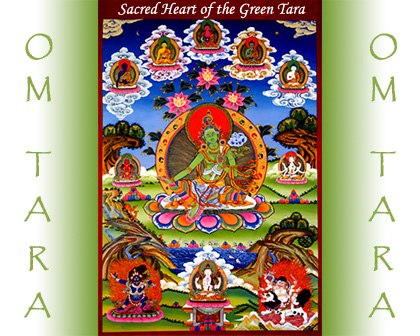 As the Mother of all Healing, the Green Tara shelters All beings in Her Loving embrace and is the Spiritual Bestower of all Health, Upliftment and Well-Being.

The loving embrace of the Goddess Tara radiates outwardly as Kindness, Compassion and Healing for All from worldly or spiritual concerns.

May the powerful blessings of Peace, Health, Wealth and Love be Yours.

May the prayers of all Bodhisattvas and the blessings of all Spiritual Beings enter your heart and hold in their hands all your precious needs. May all your needs be exactly what you intend and may your intentions move in you, from you and return to you with the strength and the power of Living your Life as Divinity Now! So be it!



" May the wicked become good,
May the good obtain peace,
May the peaceful be freed from bonds,
May the free set others free."
- Prayer of a Bodhisattva
Namasté
Om Tara Tare Tam Svaha
Pnum: 115321
I pray for the defeat of donald trump in our election and for joe biden to become our next president. I pray the election process is fair and protected. May everyone easily vote and have their vote tallied correctly. Please block any interference from other countries or from those within who wish us harm. I pray for Joe Biden and Kamilla Harris to be overwhelmingly chosen by America to be our next President and Vice President. Please protect our elections! Thank You God. Nam Myoho Renge Kyo.

Om Tara Tare Tam Svaha
Pnum: 115320
Thank You for blessing our Foundation with sustainable financial wealth and 67 million dollars. Thank You for our many wonderful donations that bless us with all we need and more to share. Thank You for blessing Ammaji with strength, swift perfect healing, comfort in her body, deep healing sleep, prayers answered to their highest potential, great happiness and sweet peace of mind. Please bless OTS with protection, safety, health, peace, abundance and joy. Thank You God. Nam Myoho Renge Kyo.

Om Tara Tare Tam Svaha
Pnum: 115319
I pray for Your divine protection for all Life. Please help us put out the fires Now! and let them turn upon themselves and be extinguished completely. I pray for air thick with moisture and still, calm wind. I pray for all fires everywhere to be extinguished Now! Please protect all wildlife. Please surround OTS with protection, safety, cool temperatures, still wind. please hold all our wild and domestic ones in Your loving arms and keep them safe. Thank You God. Nam Myoho Renge Kyo.

Om Tara Tare Tam Svaha
Pnum: 115318
I pray for the whole Rogue Valley and 140 near OTS that all fires be extinguished Now. May all people who have lost their homes, businesses, and especially animal friends be given the comfort, help, and financial aid that they need. May all firefighters be given strength & grace to keep going all over OR, CA, & WA. May the air be still & all fires go out now. With deepest gratitude I thank Mafu that me & my 7 kitties are back at home & safe. Nam Myoho Renge Kyo, Nam Myoho Renge Kyo


Back to Top