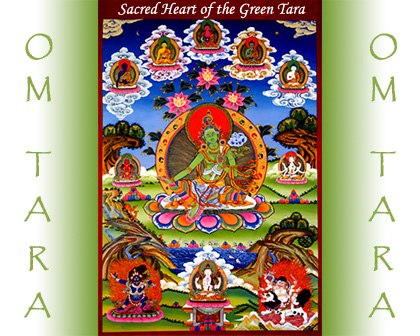 As the Mother of all Healing, the Green Tara shelters All beings in Her Loving embrace and is the Spiritual Bestower of all Health, Upliftment and Well-Being.

The loving embrace of the Goddess Tara radiates outwardly as Kindness, Compassion and Healing for All from worldly or spiritual concerns.

May the powerful blessings of Peace, Health, Wealth and Love be Yours.

May the prayers of all Bodhisattvas and the blessings of all Spiritual Beings enter your heart and hold in their hands all your precious needs. May all your needs be exactly what you intend and may your intentions move in you, from you and return to you with the strength and the power of Living your Life as Divinity Now! So be it!



" May the wicked become good,
May the good obtain peace,
May the peaceful be freed from bonds,
May the free set others free."
- Prayer of a Bodhisattva
Namasté
Om Tara Tare Tam Svaha
Pnum: 116289
Om Guru Om~I call you forth from the calling of my soul to your soul, my soul kitty. Reveal yourself to me, and help me find you so that we can share a beautiful life together. Blessed be all hoomans reaching out to their Forever Furry Friends & Family. May all precious animals be treated with respect, dignity, ,and may they all find their soft, gentle, kind, forever homes in peace. Nam Myoho Renge Kyo. Nam Myoho Renge Kyo. Nam Myoho Renge Kyo.

Om Tara Tare Tam Svaha
Pnum: 116288
Aum Guru Aum~I am so thankful for the life and the blessings of my precious fur-son, Simba. Thank you from the heart of my Heart, for choosing me as your Mumma. Thank you for letting me love you, care for you. Thank you for loving me, caring for me. Thank you for our precious time together. May your blessed journey into the Light You Are As Love bring you outrageous happiness, delightful spiritual awakenings, and love, love, love, love, for that you Are, my precious little Fur Baby. Love, Mumma

Om Tara Tare Tam Svaha
Pnum: 116287
Om Guru Om~My precious "Doc" Patricia, I send you my love, my gratitude, for all the blessings you showered upon so many here on earth, including myself. Thank you for our beautiful conversations. I love you my sister-friend. I am so grateful to know you. May your continuous journey into the Heavens and beyond, deep within the Heart of Love, be so magnificently happy for you! To your life, I humbly bow. Nam Myoho Renge Kyo. Nam Myoho Renge Kyo. Nam Myoho Renge Kyo.


Back to Top