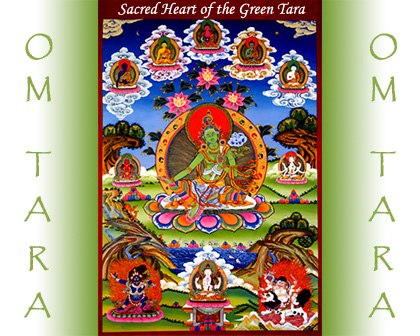 As the Mother of all Healing, the Green Tara shelters All beings in Her Loving embrace and is the Spiritual Bestower of all Health, Upliftment and Well-Being.

The loving embrace of the Goddess Tara radiates outwardly as Kindness, Compassion and Healing for All from worldly or spiritual concerns.

May the powerful blessings of Peace, Health, Wealth and Love be Yours.

May the prayers of all Bodhisattvas and the blessings of all Spiritual Beings enter your heart and hold in their hands all your precious needs. May all your needs be exactly what you intend and may your intentions move in you, from you and return to you with the strength and the power of Living your Life as Divinity Now! So be it!



" May the wicked become good,
May the good obtain peace,
May the peaceful be freed from bonds,
May the free set others free."
- Prayer of a Bodhisattva
Namasté
Om Tara Tare Tam Svaha
Pnum: 115738
I come to pray for your love and healing for my brother who has very high blood pressure and swelling in his brain. Please let this be curable, an easy thing for the doctors to fix. I pray for the best doctors available to diagnose and find a simple and fast treatment to bring him back to perfect health. Please bless him with strength and courage. Please don't let him suffer or be afraid. I ask for anyone in a health crisis to be blessed with support and healing. Nam Myoho Renge Kyo. Thank you.

Om Tara Tare Tam Svaha
Pnum: 115737
My Beloved Father, My Divine Mother, i pray with Merridi for her father's successful surgery on July 20th. I pray his surgery is easy and his recovery comfortable. I pray for Merridi and her entire family to feel confident and peaceful in the journey of supporting her father in his healthcare needs. I pray for all senior citizens to be loved and well supported; and all people to have easy access to excellent affordable healthcare now and always Thank you thank you thank you. So Be It!

Om Tara Tare Tam Svaha
Pnum: 115736
My Beloved Father, My Divine Mother, i pray in gratitude for the good health of my family. I pray now for my step-mom, Karen's easy diagnostic procedures of upper endoscopy on July 20 and coronary artery angiogram within the next 3 weeks. These are tests for eligibility for kidney transplant. I pray these tests are easy and reveal strength and resilience in her cardiac and digestive systems. Thank you for keeping a watchful loving eye on Karen and my father, John through these times. I love you.


Back to Top