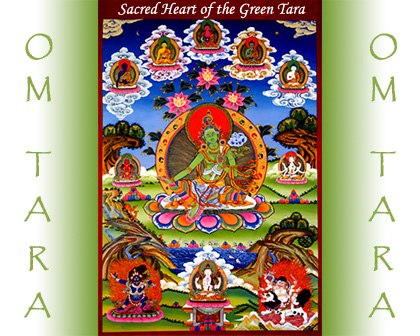 As the Mother of all Healing, the Green Tara shelters All beings in Her Loving embrace and is the Spiritual Bestower of all Health, Upliftment and Well-Being.

The loving embrace of the Goddess Tara radiates outwardly as Kindness, Compassion and Healing for All from worldly or spiritual concerns.

May the powerful blessings of Peace, Health, Wealth and Love be Yours.

May the prayers of all Bodhisattvas and the blessings of all Spiritual Beings enter your heart and hold in their hands all your precious needs. May all your needs be exactly what you intend and may your intentions move in you, from you and return to you with the strength and the power of Living your Life as Divinity Now! So be it!



" May the wicked become good,
May the good obtain peace,
May the peaceful be freed from bonds,
May the free set others free."
- Prayer of a Bodhisattva
Namasté
Om Tara Tare Tam Svaha
Pnum: 116291
Blessed be blessed be Blessed be Thank you for Grace and Love I pray for my aunt Therese Jones who has been diagnosed with temporal arteritis.May her doctors be led to clear effective solutions for her comfort and ease and safety. Blessed be Therese with a strong vibrant immune system, actively clearing this. Blessed be Therese and her husband Stewart in great Peace and surrounded in Love SO BE IT ! nammyohorengekyo nammyohorengekyo nammyohorengekyo Thank you thank you thank you SO BE IT !

Om Tara Tare Tam Svaha
Pnum: 116290
Every time I hear a dog bark, I think of you. Every time I see someone with a leash in their hand, I think of you.Every time I wake up in the morning, I think of you, sleeping in my arms the last night of your precious little doggy life here on earth with me, when you opened your eyes and licked my nose. I said to you "Honey, you have to go now" You replied "I don't want to leave you Mumma". I said "I'll always be with you. We are together forever, we are One" I pray you are playing now in JOY


Back to Top