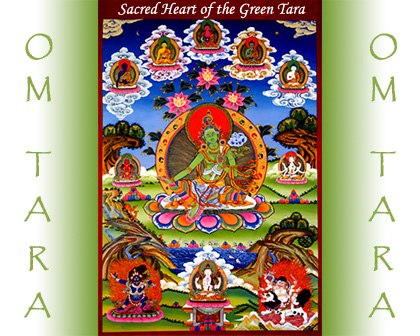 As the Mother of all Healing, the Green Tara shelters All beings in Her Loving embrace and is the Spiritual Bestower of all Health, Upliftment and Well-Being.

The loving embrace of the Goddess Tara radiates outwardly as Kindness, Compassion and Healing for All from worldly or spiritual concerns.

May the powerful blessings of Peace, Health, Wealth and Love be Yours.

May the prayers of all Bodhisattvas and the blessings of all Spiritual Beings enter your heart and hold in their hands all your precious needs. May all your needs be exactly what you intend and may your intentions move in you, from you and return to you with the strength and the power of Living your Life as Divinity Now! So be it!



" May the wicked become good,
May the good obtain peace,
May the peaceful be freed from bonds,
May the free set others free."
- Prayer of a Bodhisattva
Namasté
Om Tara Tare Tam Svaha
Pnum: 114415
Beloved Father I Love You. I pray for the immediate cessation of the fire at the Notre Dame Cathedral in Paris. I pray first responders and fire fighters easily and successfully do their job in putting out the fire. I pray for the safety of the workers, first responders and all those involved. Nammyohorengekyo nammyohorengekyo nammyohorengekyo nammyohorengekyo nammyohorengekyo nammyohorengekyo nammyohorengekyo thank you God. Aum Namah Siva Aum

Om Tara Tare Tam Svaha
Pnum: 114414
Thank you my Beloved Guru, Ammaji, Mastery, Mastery 1, and all who chanted, prayed and did reichi for me. My surgery was successful. Thank you to my lords saints, angels, guides and ancestors. Thank you to my surgeon, Dr. Scott Fischer and all who attended me in the hospital. Thank you for my sister, Phyllis who has cared for me. May she be blessed with health in her body with vibrate lungs, organs and a strong right knee. You are all an awesome team. I love you. May all be so blessed.

Om Tara Tare Tam Svaha
Pnum: 114413
I give thanks for the healings that have occurred and pray and chant for all in need of healing in body and mind, all having procedures, all passing or passed to the Light. May all be guided by our beloved GURUDEV and feel His Divine Grace. Thank you precious SWAMI AMMAJI for your kindness and your love always! Peace on Earth and Everywhere for ALL living beings! AUM NAMAHA SIVA AUM! NAM MYOHO RENGE KYO! NAM MYOHO RENGE KYO! NAM MYOHO RENGE KYO!


Back to Top