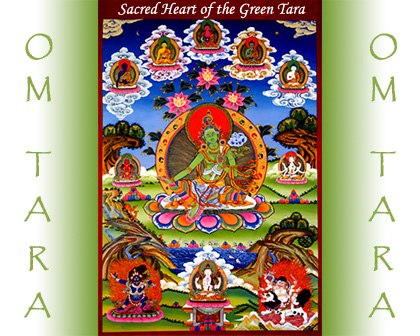 As the Mother of all Healing, the Green Tara shelters All beings in Her Loving embrace and is the Spiritual Bestower of all Health, Upliftment and Well-Being.

The loving embrace of the Goddess Tara radiates outwardly as Kindness, Compassion and Healing for All from worldly or spiritual concerns.

May the powerful blessings of Peace, Health, Wealth and Love be Yours.

May the prayers of all Bodhisattvas and the blessings of all Spiritual Beings enter your heart and hold in their hands all your precious needs. May all your needs be exactly what you intend and may your intentions move in you, from you and return to you with the strength and the power of Living your Life as Divinity Now! So be it!



" May the wicked become good,
May the good obtain peace,
May the peaceful be freed from bonds,
May the free set others free."
- Prayer of a Bodhisattva
Namasté
Om Tara Tare Tam Svaha
Pnum: 115134
Om Isa MAFU, Om namah Siva, Thank you for your grace and love always and forever. Thank you for Ammaji and her continued health, strength and peace. Thank you for the protected virus cure reaching everyone who needs it easily. Thank you for the Foundation and OTS's abundance of 67 million coming quickly.Thank you for all those who have filed for unemployment finally receiving their monies and being able to pay their bills and eat good food and be happy. Thank you God, So be it, and next...

Om Tara Tare Tam Svaha
Pnum: 115133
Beloved Father I Love You. Thank You for the Darshan tonight. Thank you for blessing our planet with you presence through video! Aum Namah Siva Aum. I appreciate You I Bow to You I Love You Always Always Always.

Om Tara Tare Tam Svaha
Pnum: 115132
Beloved Mafu, Dearest Ammaji, We are writing to express our gratitude for the privilege of asking your blessings and prayers through this prayer temple. Through your thoughts and prayers and those of they who joined in the effort, our dear sister-in-law, Rose has now tested negative for Covid-19. Brother Jim is out of hospital and being cared for at the home of his daughter, a nurse. Thank you...thank you...thank you. We SO Love you...Francis & Helene


Back to Top