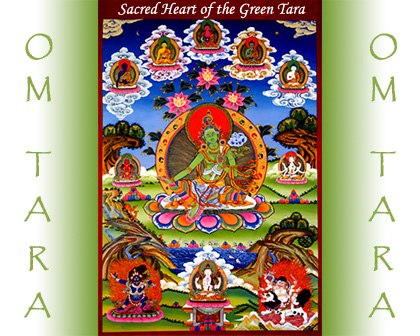 As the Mother of all Healing, the Green Tara shelters All beings in Her Loving embrace and is the Spiritual Bestower of all Health, Upliftment and Well-Being.

The loving embrace of the Goddess Tara radiates outwardly as Kindness, Compassion and Healing for All from worldly or spiritual concerns.

May the powerful blessings of Peace, Health, Wealth and Love be Yours.

May the prayers of all Bodhisattvas and the blessings of all Spiritual Beings enter your heart and hold in their hands all your precious needs. May all your needs be exactly what you intend and may your intentions move in you, from you and return to you with the strength and the power of Living your Life as Divinity Now! So be it!



" May the wicked become good,
May the good obtain peace,
May the peaceful be freed from bonds,
May the free set others free."
- Prayer of a Bodhisattva
Namasté
Om Tara Tare Tam Svaha
Pnum: 115327
My Beloved Mafu, I ask for prayers for the continued healing of my brother, Ralph, from his stroke. May his recent stay at the hospital and the MRI he will have give him all the information and help he needs for his continued healing. May he regain more energy and strength within himself that brings him so much joy. May he always know how much he is loved.

Om Tara Tare Tam Svaha
Pnum: 115326
For the soul of my beloved cousin Mervyn Lasovsky,96, in Israel, passed to the Light 9/11 10.30 amCST. A magnificent life well lived.He & Joyce, 93 my mother's 1st cousin, were like parents to us in Zimbabwe before they moved to Israel. I speak to her daily & so grateful that we could attend the funeral virtually in Rehovot Sunday & Zoom Shiva Tues. Grateful I celebrated Mervyn's 95th birthday in Israel last year.My heart is full for prayer & chant at this Sacred time. Only Love remains. SHALOM!

Om Tara Tare Tam Svaha
Pnum: 115325
Of such gratitude for the protection & safety of our beloved Oregon Tiger Sanctuary.For the privilege & blessing to chant with our loving discipleship in prayer & thanksgiving as we pray & chant for the cessation NOW of the fires in Oregon, WA & CA, & the safety of 1st responders & support & help for all affected.God bless one & all.ThankYou.ThankYou. Thank You! Thankyou with all my heart Beloved GURUDEV SRI ISA MAFU, cherished SWAMI Ammaji, all the devoted Vets! To LIFE! NAM MYOHO RENGE KYO!


Back to Top