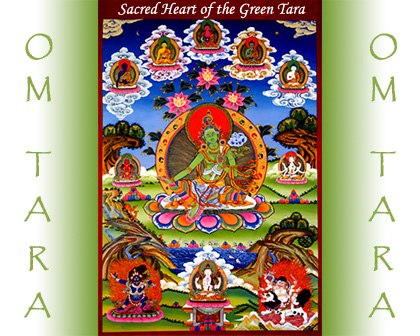 As the Mother of all Healing, the Green Tara shelters All beings in Her Loving embrace and is the Spiritual Bestower of all Health, Upliftment and Well-Being.

The loving embrace of the Goddess Tara radiates outwardly as Kindness, Compassion and Healing for All from worldly or spiritual concerns.

May the powerful blessings of Peace, Health, Wealth and Love be Yours.

May the prayers of all Bodhisattvas and the blessings of all Spiritual Beings enter your heart and hold in their hands all your precious needs. May all your needs be exactly what you intend and may your intentions move in you, from you and return to you with the strength and the power of Living your Life as Divinity Now! So be it!



" May the wicked become good,
May the good obtain peace,
May the peaceful be freed from bonds,
May the free set others free."
- Prayer of a Bodhisattva
Namasté
Om Tara Tare Tam Svaha
Pnum: 115180
Om Guru Om~I pray in gratitude today for my yoga teachers past & present. I give thanks to Bronwyn R who is truly an exceptional Iyengar Yoga teacher, and to Natalie M and also to Abe F. Thank you for helping me to fall in love with my practise again, after so many years. Thank you that I am changing through the blessing that is yoga. I love you Mafu. Please bless all my yoga teachers, and please help all great yoga schools survive the lockdowns of COVID19. Thank you.

Om Tara Tare Tam Svaha
Pnum: 115179
Om Guru Om~I love you Mafu. Thank you for your love and your patience with me. I haven't always been consistent in my spiritual practices. I call on our Love, on my Angels, my Guides, to assist me to be now as I am before, when I am gladly up by 6am every day to perform my exercise, my yoga and my meditation. This I pray for everyone who desires greater strength to recommit. I don't think I could even begin to wonder who You are, and I am in awe that I am Your disciple. Thank you. I love you.


Back to Top