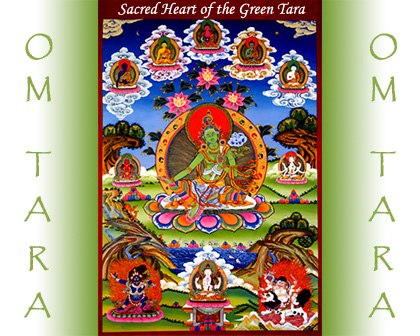 As the Mother of all Healing, the Green Tara shelters All beings in Her Loving embrace and is the Spiritual Bestower of all Health, Upliftment and Well-Being.

The loving embrace of the Goddess Tara radiates outwardly as Kindness, Compassion and Healing for All from worldly or spiritual concerns.

May the powerful blessings of Peace, Health, Wealth and Love be Yours.

May the prayers of all Bodhisattvas and the blessings of all Spiritual Beings enter your heart and hold in their hands all your precious needs. May all your needs be exactly what you intend and may your intentions move in you, from you and return to you with the strength and the power of Living your Life as Divinity Now! So be it!



" May the wicked become good,
May the good obtain peace,
May the peaceful be freed from bonds,
May the free set others free."
- Prayer of a Bodhisattva
Namasté
Om Tara Tare Tam Svaha
Pnum: 116297
Beloved Mafu, I pray for peace on earth for all living beings everywhere. I pray for those suffering with mental illness. May they find the help they need. I pray for the hungry, the angry, the sad and lonely - may they find peace. I pray for those in war torn countries that they may know peace NOW and always. I pray for the ceasing of war. Thank you for hearing this prayer and thank you for my life. I am grateful.

Om Tara Tare Tam Svaha
Pnum: 116296
Dear Mafu, beloved Jesus, all my angels and all my guides I ask for your help. I have been suffering with chronic gout for over 5 weeks and my kidney function has decreased greatly in the last 4 years. I pray for direction. I have an opportunity to work with Doctor's in Europe doing regenerative medicine who have helped heal people with CKD and I would like your blessing to go and have them treat my disease. If this is the right path, please let it be known to me. Thank you. So be it!


Back to Top