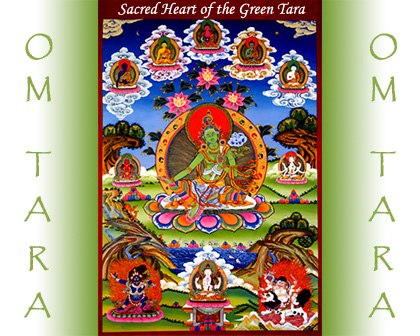 As the Mother of all Healing, the Green Tara shelters All beings in Her Loving embrace and is the Spiritual Bestower of all Health, Upliftment and Well-Being.

The loving embrace of the Goddess Tara radiates outwardly as Kindness, Compassion and Healing for All from worldly or spiritual concerns.

May the powerful blessings of Peace, Health, Wealth and Love be Yours.

May the prayers of all Bodhisattvas and the blessings of all Spiritual Beings enter your heart and hold in their hands all your precious needs. May all your needs be exactly what you intend and may your intentions move in you, from you and return to you with the strength and the power of Living your Life as Divinity Now! So be it!



" May the wicked become good,
May the good obtain peace,
May the peaceful be freed from bonds,
May the free set others free."
- Prayer of a Bodhisattva
Namasté
Om Tara Tare Tam Svaha
Pnum: 116027
Most Precious Beloveds Mafu and Ammaji, Thank You for a most wonderful New Year's Retreat! It is incredibly generous for You to have provided such a feast of spiritual Love for us to bathe in. My deepest appreciation to both of You. Aum Shanti Shanti Shanti Aum Shalom Aum Ahimsa Aum 😍🥰💞🙏

Om Tara Tare Tam Svaha
Pnum: 116026
Beloved Lord, Divine Goddess, Blessed Ammaji I enter here to pray for Roberta W who has stage 4 lung cancer. It is contained except for spread to one lymph node. I see Roberta's lungs healthy and pink as they are before, using her chemotherapy to its greatest benefit, all that does not belong to her turning to dust and blowing away to be returned to the Earth. I pray this for all fighting cancer. Om shanti

Om Tara Tare Tam Svaha
Pnum: 116025
Beloved Father I Love You. I pray for Casey and Lisa. Please bring them the healing they need immediately. May their addiction to prescription medicines be abolished now, Yes! May the magnetic healing powers of Lord Jesus Christ bless their lives and their children's lives now, Yes. They are healed now Yes. Nammyohorengekyo Nammyohorengekyo Nammyohorengekyo. Thank You God Thank You Goddess Thank You Guru! So Be It.

Om Tara Tare Tam Svaha
Pnum: 116022
Aum Shanti Shanti Aum! As we enter gently into this New Year of 2022, may we come together as a world community in common humanity to heal our Planet Earth and All Living Beings Immediately Now! We cooperate fully to take all necessary measures to neutralize the covid virus,& medical science makes great strides in developing cures for covid & all afflictions. I pray for all human hearts to open in compassion & love so that we can remember that we are One Universal Family. Therefore Peace! SBI!

Om Tara Tare Tam Svaha
Pnum: 116021
Beloved father I love you. I pray for the passing of tea master Chiba from Kyoto, Japan. He passed your side master and be surrounded by the highest of angels in the blessings that he imparted on this plane be carried on by all those who he touched. His wife and his family be comforted at this time and surrounded in your loving arms. Pray for Chiba and all those who have passed to the other side of the veil on this day and all days, aum namah siva aum. Sadgurunath Maharaj ki Jai! Thank you God


Back to Top