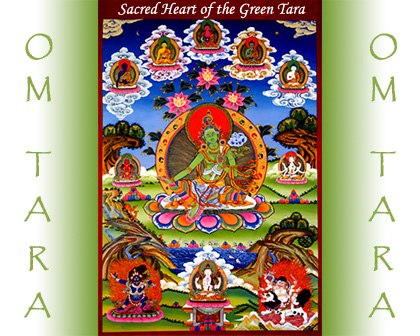 As the Mother of all Healing, the Green Tara shelters All beings in Her Loving embrace and is the Spiritual Bestower of all Health, Upliftment and Well-Being.

The loving embrace of the Goddess Tara radiates outwardly as Kindness, Compassion and Healing for All from worldly or spiritual concerns.

May the powerful blessings of Peace, Health, Wealth and Love be Yours.

May the prayers of all Bodhisattvas and the blessings of all Spiritual Beings enter your heart and hold in their hands all your precious needs. May all your needs be exactly what you intend and may your intentions move in you, from you and return to you with the strength and the power of Living your Life as Divinity Now! So be it!



" May the wicked become good,
May the good obtain peace,
May the peaceful be freed from bonds,
May the free set others free."
- Prayer of a Bodhisattva
Namasté
Om Tara Tare Tam Svaha
Pnum: 114449
Thank You for unfolding events in our government that are revealing the darkness of our present administration. Thank You that there are many who can see the Truth and are fighting to take back our government, and protect our true American values. Please guide us in right action and help us impeach Donald Trump and remove all darkness from our government. Please pave the way for all the criminals in Trump's circle to be held accountable and put in jail. Thank You God. Nam Myoho Renge Kyo.

Om Tara Tare Tam Svaha
Pnum: 114448
Please bless all the immigrants being held in captivity at our borders with compassion and peace. Please free the children and return them to their people. I pray for a resolve to this global sadness. Help us find a way to make beautiful, safe lives for these displaced people. I pray all who are caring for them are compassionate and respectful. Please protect the children. All children, everywhere. Please remove all trauma from their minds, bodies and souls. Thank You God. Nam Myoho Renge Kyo.

Om Tara Tare Tam Svaha
Pnum: 114447
Please surround my uncle Al with Your divine presence and sweet peace and comfort. Please open his mind and heart so he may find understanding. I pray that his prostate cancer causes him no pain. I pray that he feels my love and support and finds some resolve in his life. I am so sorry that he has suffered for so many of his 95 years. Please guide him to peace of mind and kind thoughts. If possible, please grant him a glimpse of the Heaven that awaits him. Thank You God. Nam Myoho Renge Kyo.

Om Tara Tare Tam Svaha
Pnum: 114446
Thank You for blessing our Foundation with sustainable financial wealth and 67 million dollars. Thank You for our many donations that bless us with all we need and more to share. Thank You for blessing Ammaji with strength, swift perfect healing, deep healing sleep, comfort in her body, prayers answered to their highest potential, great happiness and sweet peace of mind. Please bless OTS with protection, abundance, safety, health, peace and joy. Thank You God. Nam Myoho Renge Kyo.


Back to Top