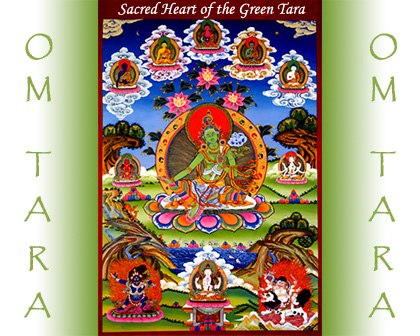 As the Mother of all Healing, the Green Tara shelters All beings in Her Loving embrace and is the Spiritual Bestower of all Health, Upliftment and Well-Being.

The loving embrace of the Goddess Tara radiates outwardly as Kindness, Compassion and Healing for All from worldly or spiritual concerns.

May the powerful blessings of Peace, Health, Wealth and Love be Yours.

May the prayers of all Bodhisattvas and the blessings of all Spiritual Beings enter your heart and hold in their hands all your precious needs. May all your needs be exactly what you intend and may your intentions move in you, from you and return to you with the strength and the power of Living your Life as Divinity Now! So be it!



" May the wicked become good,
May the good obtain peace,
May the peaceful be freed from bonds,
May the free set others free."
- Prayer of a Bodhisattva
Namasté
Om Tara Tare Tam Svaha
Pnum: 116376
Beloved Father💗I Love You🙏 I pray for divine grace to help my friend Amanda's aunt Marcie Morley who was run over by a car in her driveway, was recovering from injuries. Now in ICU with subsequent pneumonia, not responding well to treatment, Drs suggest ceasing antibiotics medication, to allow her to go. She loved life. Pls help the family make the right decisions and help Marcie be brave & choose life🙏 if that is her desire, pls grant her Healing.NamMyohoRengeKyo

Om Tara Tare Tam Svaha
Pnum: 116375
Blessed be Yong Choi aging mother of a friend of mine.May she find strength and the will to fully inhabit her body and release all past emotional traumas. May she find peace and enjoy her days with her daughter. May they have laughter together. nammyohorengekyo nammyohorengekyo nammyohorengekyo Thank you Beloved Father Most Divine Mother Blessed be all beings Peace peace peace SO BE IT !


Back to Top