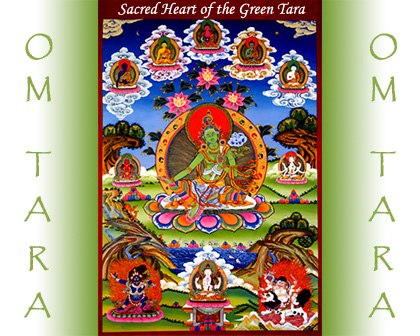 As the Mother of all Healing, the Green Tara shelters All beings in Her Loving embrace and is the Spiritual Bestower of all Health, Upliftment and Well-Being.

The loving embrace of the Goddess Tara radiates outwardly as Kindness, Compassion and Healing for All from worldly or spiritual concerns.

May the powerful blessings of Peace, Health, Wealth and Love be Yours.

May the prayers of all Bodhisattvas and the blessings of all Spiritual Beings enter your heart and hold in their hands all your precious needs. May all your needs be exactly what you intend and may your intentions move in you, from you and return to you with the strength and the power of Living your Life as Divinity Now! So be it!



" May the wicked become good,
May the good obtain peace,
May the peaceful be freed from bonds,
May the free set others free."
- Prayer of a Bodhisattva
Namasté
Om Tara Tare Tam Svaha
Pnum: 116301
I hurt for the multitudes who've lost their lives in the 5.9 earthquake in Afghanistan. May they each and every one pass easily into the light as the love they are. May all the injured be quickly rescued and successfully treated. May those who lost loved ones be at peace with their passing. May power be quickly restored, and may healthy food, clean water, and grief/trauma counselling be available to all survivors asap. Thank you Mafu and healing angels.

Om Tara Tare Tam Svaha
Pnum: 116299
Beloved Mafu, Lord Jesus Christ, all my angels and all my guides I come to you and ask for your help. I just emailed a team of doctors over in Europe at a wellness clinic called European Wellness. Dr Dmytro Klokol overseas all of their clinics in Europe. I pray to you to please bless this journey and help remove any obstacles on my path to getting help from their team of doctors. Please open their hearts to helping me. I am so grateful for this opportunity. Thank you for my life. So Be it.


Back to Top