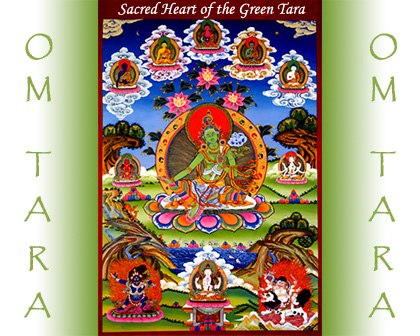 As the Mother of all Healing, the Green Tara shelters All beings in Her Loving embrace and is the Spiritual Bestower of all Health, Upliftment and Well-Being.

The loving embrace of the Goddess Tara radiates outwardly as Kindness, Compassion and Healing for All from worldly or spiritual concerns.

May the powerful blessings of Peace, Health, Wealth and Love be Yours.

May the prayers of all Bodhisattvas and the blessings of all Spiritual Beings enter your heart and hold in their hands all your precious needs. May all your needs be exactly what you intend and may your intentions move in you, from you and return to you with the strength and the power of Living your Life as Divinity Now! So be it!



" May the wicked become good,
May the good obtain peace,
May the peaceful be freed from bonds,
May the free set others free."
- Prayer of a Bodhisattva
Namasté
Om Tara Tare Tam Svaha
Pnum: 115141
Namaste Blessed be Thank you my Beloved thank you thank you thank you Thank you Blessed Swami my humble pranyams I pray for me neighbor Lisa Gaydosh, who passed her body in her sleep this week to fly to her Highest Heaven as only Love. May she be released and be in Peace. I also pray for Jeff Ridgeway,our very compassionate manager, who had developed a loving kind friendship with Lisa, that he be held in Love and Peace and strength. Nammyohorengekyo Nammyohorengekyo Nammyohorengekyo Thank you

Om Tara Tare Tam Svaha
Pnum: 115140
My Beloved GuruDev Sri Isa Mafu, oh how I love you. I am so grateful for my path with you. Dearest Ammaji i love you so very much and am so thankful for you. I pray for healing for everyone everywhere immediately now. I pray everyone everywhere is well supported and loved. I pray for peace and joy everywhere immediately now. Thank you thank you thank you.

Om Tara Tare Tam Svaha
Pnum: 115139
Om Guru Om, Sri Guru Dev Isa Mafu, Om Tara Tare Tam Svaha, my Angels & Arcangels, my guides, Prophet Elie, I pray at your lotus feet my Beloved One in gratitude for my new cancer treatment. I see the cancer cells completely and easily leave my body and become pure golden white light. I pray for everyone who needs a treatment to be cared for and to be in the Grace of their God. Nam Myoho Renge Kyo Nam Myoho Renge Kyo Nam Myoho Renge Kyo Nam Myoho Renge Kyo Nam Myoho Renge Kyo Aum Namah Siva Aum


Back to Top