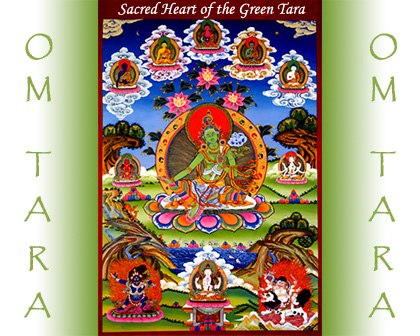 As the Mother of all Healing, the Green Tara shelters All beings in Her Loving embrace and is the Spiritual Bestower of all Health, Upliftment and Well-Being.

The loving embrace of the Goddess Tara radiates outwardly as Kindness, Compassion and Healing for All from worldly or spiritual concerns.

May the powerful blessings of Peace, Health, Wealth and Love be Yours.

May the prayers of all Bodhisattvas and the blessings of all Spiritual Beings enter your heart and hold in their hands all your precious needs. May all your needs be exactly what you intend and may your intentions move in you, from you and return to you with the strength and the power of Living your Life as Divinity Now! So be it!



" May the wicked become good,
May the good obtain peace,
May the peaceful be freed from bonds,
May the free set others free."
- Prayer of a Bodhisattva
Namasté
Om Tara Tare Tam Svaha
Pnum: 115186
Om Guru Om~I pray today for my beautiful little niece, Jasmine H. I pray her school days from immediately NOW! onwards are softer, kinder, supportive, blessed with teachers who love her and who teach with kindness and fairness. I pray her friends who come into her life are sincere, kind, heart-warming to her as she is to them. I pray this for all children who are having challenges in school. I give thanks for the high-school programme Mafu has for Ashland students in Aug. May all be so blessed.

Om Tara Tare Tam Svaha
Pnum: 115185
Beloved Lord Mafu, blessed Tara, Thank you so much for having brought the teaching of Reiki to us. I am so grateful for your wondervul instructor Helen and her powerful healing. Reiki has been an important part of my healing reducing size of lump very significantly. Thank you for coming to us and loving us like you do.


Back to Top