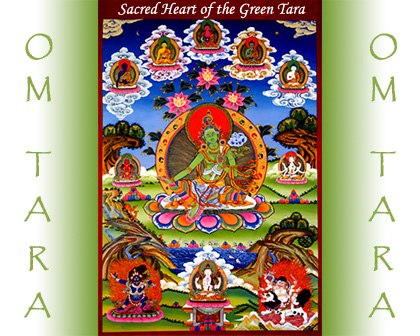 As the Mother of all Healing, the Green Tara shelters All beings in Her Loving embrace and is the Spiritual Bestower of all Health, Upliftment and Well-Being.

The loving embrace of the Goddess Tara radiates outwardly as Kindness, Compassion and Healing for All from worldly or spiritual concerns.

May the powerful blessings of Peace, Health, Wealth and Love be Yours.

May the prayers of all Bodhisattvas and the blessings of all Spiritual Beings enter your heart and hold in their hands all your precious needs. May all your needs be exactly what you intend and may your intentions move in you, from you and return to you with the strength and the power of Living your Life as Divinity Now! So be it!



" May the wicked become good,
May the good obtain peace,
May the peaceful be freed from bonds,
May the free set others free."
- Prayer of a Bodhisattva
Namasté
Om Tara Tare Tam Svaha
Pnum: 115392
Aum Namah Shiva Aum, Sri GuruDev Isa Mafu, Benevolent Mother and Spirit Guides of my precious furry baby Orion I pray for his immediate comfort of lungs and for the severe asthma attack to cease now and easily. I pray for the bronchitis medication to relieve him now so he can breathe normally again and immediately. I pray for my baby to be healed now and for his body to gain strength with water and food. I pray for his angels to ease his suffering I love you Orion Aum Namah Shiva Aum

Om Tara Tare Tam Svaha
Pnum: 115391
Beloved Father, Divine Mother, Lord Jesus Christ, Mother Mary, Benevolent Tara, all beings of assistance in light, I pray for Laura C who passed her body this morning. May she easily go to her highest heaven knowing herself as the love and light she is. I pray for her husband Mark C and their four children. High holy angels and sweet Jesus whom they love, please surround and fill them with comfort and peace. Please assist and give grace to all families facing challenge or change. Thank You.

Om Tara Tare Tam Svaha
Pnum: 115390
Beloved Mafu. I am so pleased as I witness more and more the revealing of truth in the highest levels of our country's government and I pray: May the wicked become good May the good obtain peace May the peaceful be free from bonds May the free set others free AumNahmaSivaAum

Om Tara Tare Tam Svaha
Pnum: 115389
Beloved Mafu. I am so pleased as I witness more and more the revealing of truth in the highest levels of our country's government and I pray: May the wicked become good May the good obtain peace May the peaceful be free from bonds May the free set others free AumNahmaSivaAum


Back to Top