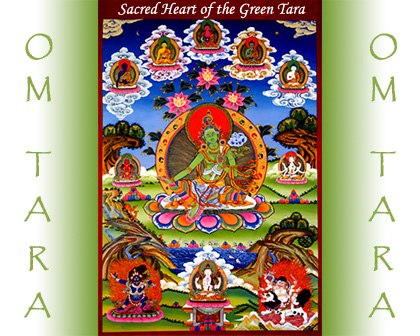 As the Mother of all Healing, the Green Tara shelters All beings in Her Loving embrace and is the Spiritual Bestower of all Health, Upliftment and Well-Being.

The loving embrace of the Goddess Tara radiates outwardly as Kindness, Compassion and Healing for All from worldly or spiritual concerns.

May the powerful blessings of Peace, Health, Wealth and Love be Yours.

May the prayers of all Bodhisattvas and the blessings of all Spiritual Beings enter your heart and hold in their hands all your precious needs. May all your needs be exactly what you intend and may your intentions move in you, from you and return to you with the strength and the power of Living your Life as Divinity Now! So be it!



" May the wicked become good,
May the good obtain peace,
May the peaceful be freed from bonds,
May the free set others free."
- Prayer of a Bodhisattva
Namasté
Om Tara Tare Tam Svaha
Pnum: 116575
My Beloved Father, my Divine Mother, i am praying for the perfect people to support us at home in our lives at this time who are compassionate, grounded, sensitive and honest that Mark will feel completely comfortable having around. I pray all people are always well supported in kindness. Thank you thank you thank you.

Om Tara Tare Tam Svaha
Pnum: 116574
Beloved Guru Dev Sri Isa Mafu, Blessed Ammaji, i pray for my beautiful spirited snuggler cat Baba Yisious, that his left front-leg elbow is Healed, the inflammation down w the supplement, and this joint Heals so he walks comfortably and can thunder-run thru the house as he loves to do! Yes Baba' elbow Heals easily! Thank you for this grace. NamMyohoRengeKyo NamMyohoRengeKyo NamMyo hoRengeKyo NamMyohoRengeKyo NamMyohoRenge Kyo AUMeow

Om Tara Tare Tam Svaha
Pnum: 116573
Beloved GuruDev Isa Mafu, Ammaji HeartLight, i see leaders of our country, esp those w political desires, open their Hearts and Minds, guided by a PeaceFilled Loving Spirit to choose the Loving Ways of Equality, Loving Kind Care for People, Harmonoy and Balance in Affairs that Matter for the People & our Planets Health. May the Light of God' Perfection bring Sense, Harmony and Peace to our World, all Peoples, all Countries. NamMyohoRengeKyo Nam MyohoRengeKyo NamMyohoRengeKyo NamMyoho RengeKyo OM

Om Tara Tare Tam Svaha
Pnum: 116572
Beloved GuruDev Sri Isa Mafu, Ammaji, Blessed Green Tara, Quan Yin, Maha Bekenzie, the Healing Powers of Lord Jesus~ i pray for children dealing w cancer: Riley Faith/7. Braydon/3, Addy, baby Wyatt, and children whose names i do not know. Please bring your Healing Graces to their 3rd dimensional body so the illness shrivelsUP and falls away. i am grateful for all blessings for these precious children to know strength with a Healed Happy Healthy Life to enjoy NamMyohoRengeKyo in gratitude AUM

Om Tara Tare Tam Svaha
Pnum: 116571
Beloved Father God.Goddess.GuruDev Sri Isa Mafu, Ammaji, I come in prayer for the Children of the World that in your Infinite Loving Provision of All Good there is plenty of Food to nourish their bodies & Minds, plentiful CleanWater & for Gardens, Safety and Peace in Homes, Towns, Countries. Parents remember LovingCare of their precious children. The Llight of Peace reigns as differences are set aside, w World leaders Choosing Peace and their People over Profit, politics, religion. TYGod NMRK OM

Om Tara Tare Tam Svaha
Pnum: 116570
My Beloved Father God, GuruDev Sri Isa Mafu, Heartlight Ammaji of Healing Graces for my sister' daughter, warrioress LovesLife Heidi KC, 3rd mo. chemo, 2nd round YES! i see Heidi in greater comfort as need for paracentesis is less & less YES! EVERY Cell of Heidi' Body is filled w WHITE LIGHT & HEALING as what doesnt serve Life shrivels up & is shed YES! Heidi is HEALED in her 3rd DIMENSIONAL Body YES! NamMyohoRengKyo Nam MyohoRengekyo. NamMyohoRengeKyo Thank you God for Heidi' precious Life AUM


Back to Top