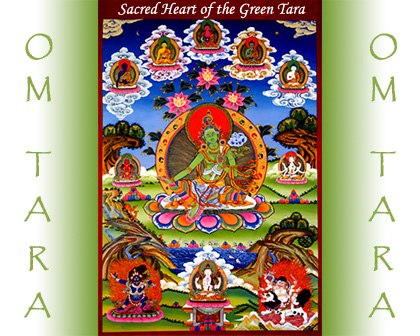 As the Mother of all Healing, the Green Tara shelters All beings in Her Loving embrace and is the Spiritual Bestower of all Health, Upliftment and Well-Being.

The loving embrace of the Goddess Tara radiates outwardly as Kindness, Compassion and Healing for All from worldly or spiritual concerns.

May the powerful blessings of Peace, Health, Wealth and Love be Yours.

May the prayers of all Bodhisattvas and the blessings of all Spiritual Beings enter your heart and hold in their hands all your precious needs. May all your needs be exactly what you intend and may your intentions move in you, from you and return to you with the strength and the power of Living your Life as Divinity Now! So be it!



" May the wicked become good,
May the good obtain peace,
May the peaceful be freed from bonds,
May the free set others free."
- Prayer of a Bodhisattva
Namasté
Om Tara Tare Tam Svaha
Pnum: 115404
OmGuruOm~I am so grateful for You, Mafu, and for your beloved Oracle, my Swami, Ammaji. Thank you for Ammaji's life. Thank you for coming to us over and over and over again, Mafu. Thank you for your loving wisdom, your kindness, compassion and gentleness like I have never known. Thank you the wisdom of AgeLoc Youth & Vitality to keep us strong & healthy, and which we can share with others to keep them strong & healthy too. And thank you for my beautiful Mum's Life. Namaste, Master. I love you.

Om Tara Tare Tam Svaha
Pnum: 115403
Om Guru Om~On this day I pray with Melanie & Andre for little Orion's lungs to be in full health, for his ability to always breathe peacefully and in harmony with his nature. I pray all our fur-babies remain strong and their karmas drip from them with the blessings of our love toward them. Nam Myoho Renge Kyo.

Om Tara Tare Tam Svaha
Pnum: 115402


Om Tara Tare Tam Svaha
Pnum: 115401
My Beloved GuruDev Sri Isa Mafu and Precious Ammaji, I come to this Temple to pray for Joy Turner's cherished son, Jeff Boswell. I pray that the hands of Dr. Chandler are Divinely Guided to successfully and easily remove the titanium plates around his collar bone, and that his bones are healthy, clear & strong. I pray for Jeff to be in comfort in his body, & for both Jeff and Joy to be at Peace. May his recovery be swift and easy,& may all those undergoing surgery tomorrow be blessed. Thank you

Om Tara Tare Tam Svaha
Pnum: 115400
I join in prayer for all in need of healing, for all passing, for all passed and for those who love them. God bless all! May all suffering be uplifted into peace.I give such thanks to our cherished SWAMI Ammaji and our Beloved GURUDEV SRI SRI ISA MAFU! How blessed are we!I am so excited for the opportunity to be at this GURU Darshan!May all darkness be uplifted into Light & Love! May we see a new soul-filled, compassionate President Biden & VP Kamala Harris on Tuesday! So be it! HARE!THANK YOU!


Back to Top