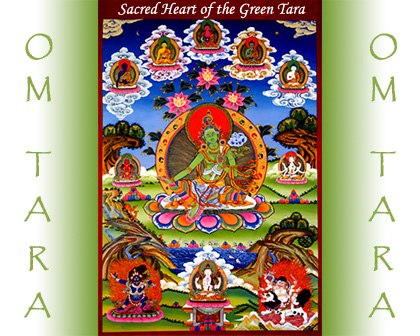 As the Mother of all Healing, the Green Tara shelters All beings in Her Loving embrace and is the Spiritual Bestower of all Health, Upliftment and Well-Being.

The loving embrace of the Goddess Tara radiates outwardly as Kindness, Compassion and Healing for All from worldly or spiritual concerns.

May the powerful blessings of Peace, Health, Wealth and Love be Yours.

May the prayers of all Bodhisattvas and the blessings of all Spiritual Beings enter your heart and hold in their hands all your precious needs. May all your needs be exactly what you intend and may your intentions move in you, from you and return to you with the strength and the power of Living your Life as Divinity Now! So be it!



" May the wicked become good,
May the good obtain peace,
May the peaceful be freed from bonds,
May the free set others free."
- Prayer of a Bodhisattva
Namasté
Om Tara Tare Tam Svaha
Pnum: 115198
Thank You for unfolding events showing donald trump's true intentions. Please, please guide all Americans to see this truth, accept it and vote for joe biden. Please let the overwhelming evidence of his criminal, cruel, anti-american behaviour convince even his most devoted base supporters that he must go. I pray this latest news about putin's aggression moves everyone in government to do all they can to remove trump from office. I pray this with all my heart. Thank You God. Nam Myoho Renge Kyo.

Om Tara Tare Tam Svaha
Pnum: 115197
Thank You for blessing our Foundation with sustainable financial wealth and 67 million dollars. Thank You for our many wonderful donations that bless us with all we need and more to share. Thank You for blessing Ammaji with strength, swift permanent healing, deep healing sleep, comfort in her body, prayers answered to their highest potential, great happiness and peace of mind. Please bless OTS with protection, abundance, safety, health, peace and joy. Thank You God. Nam Myoho Renge Kyo.

Om Tara Tare Tam Svaha
Pnum: 115196
Please uplift all who are suffering from this virus. I pray all infected are healed, all frontline workers are protected and safe, all who are without paychecks receive money immediately. I pray for a vaccine to rid us of this disease is created now! Please guide all to wear masks, wash hands and social distance, which is imperative now. Please keep us safe from this terrorism. I pray for peace one earth and everywhere for all living beings. So be it, thank You God. Nam Myoho Renge Kyo.

Om Tara Tare Tam Svaha
Pnum: 115195
Beloved Father I Love you ❤️ Nammyohorengekyo Nammyohorengekyo Nammyohorengekyo Nammyohorengekyo Nammyohorengekyo Nammyohorengekyo Nammyohorengekyo Nammyohorengekyo Nammyohorengekyo thank you for sustainable stable healthful longevity, sustainable stable financial wealth and sustainable stable spiritual awakening aum namah Siva aum Nammyohorengekyo Nammyohorengekyo Nammyohorengekyo Nammyohorengekyo Nammyohorengekyo Nammyohorengekyo Nammyohorengekyo Nammyohorengekyo Nammyohorengekyo Nammyohorenge


Back to Top