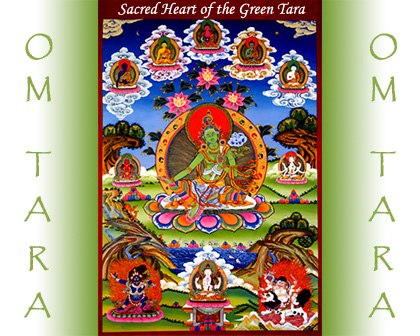 As the Mother of all Healing, the Green Tara shelters All beings in Her Loving embrace and is the Spiritual Bestower of all Health, Upliftment and Well-Being.

The loving embrace of the Goddess Tara radiates outwardly as Kindness, Compassion and Healing for All from worldly or spiritual concerns.

May the powerful blessings of Peace, Health, Wealth and Love be Yours.

May the prayers of all Bodhisattvas and the blessings of all Spiritual Beings enter your heart and hold in their hands all your precious needs. May all your needs be exactly what you intend and may your intentions move in you, from you and return to you with the strength and the power of Living your Life as Divinity Now! So be it!



" May the wicked become good,
May the good obtain peace,
May the peaceful be freed from bonds,
May the free set others free."
- Prayer of a Bodhisattva
Namasté
Om Tara Tare Tam Svaha
Pnum: 115252
Om Tara Om~I pray now again for the sustainable health & healthful longevity of my mum, Lizetta P. Her last routine test results came back 'inconclusive' so she will have another ultrasound (fine needle) on 10Sep2020 (MEL). I pray for Mum's ALL CLEAR and I pray for happy, healthy cells for ALL of Mafu's disciples starting with our blessed Ammaji, Mafu's disciples, our parents, siblings, family, friends and myself too. I pray for Lizetta's ALL CLEAR once again. Thank you! I love you. NMRK

Om Tara Tare Tam Svaha
Pnum: 115251
My Beloved Most Precious Guru Dev Sri Isa Mafu - My Divine Most Holy Mother - Highest Holy Healing Angels & Guides --- I pray for an 'All Clear' outcome for my brother 'Steve's' all clear Colonoscopy --- May all be well....Thank you - Om Guru Om Om Guru Om Om Guru Om

Om Tara Tare Tam Svaha
Pnum: 115250
Om Guru Om~I pray for Eleni G. mother of a friend who has been diagnosed with COVID19. I pray Eleni, and all people who are experiencing this virus, find a way to health, healing and sustainable LIFE now! I pray all carers, doctors, nurses and everyone in the medical profession are safe, and they treat these people wich such love and respect. I pray for Eleni's healing now, and for the healing of all who have been so diagnosed. Nam Myoho Renge Kyo. Nam Myoho Renge Kyo. Nam Myoho Renge Kyo.


Back to Top