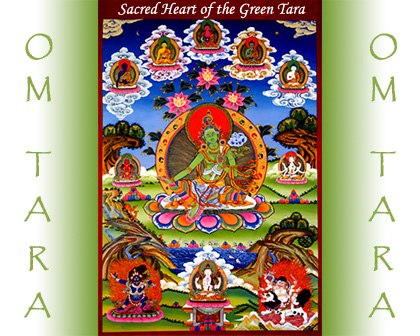 As the Mother of all Healing, the Green Tara shelters All beings in Her Loving embrace and is the Spiritual Bestower of all Health, Upliftment and Well-Being.

The loving embrace of the Goddess Tara radiates outwardly as Kindness, Compassion and Healing for All from worldly or spiritual concerns.

May the powerful blessings of Peace, Health, Wealth and Love be Yours.

May the prayers of all Bodhisattvas and the blessings of all Spiritual Beings enter your heart and hold in their hands all your precious needs. May all your needs be exactly what you intend and may your intentions move in you, from you and return to you with the strength and the power of Living your Life as Divinity Now! So be it!



" May the wicked become good,
May the good obtain peace,
May the peaceful be freed from bonds,
May the free set others free."
- Prayer of a Bodhisattva
Namasté
Om Tara Tare Tam Svaha
Pnum: 114090
Om Guru Om~On this day, I pray for ALL CLEAR for my beautiful mum, Lizetta P. as she undergoes her biopsy. May all doctors, nurses and carers who attend to her before, during and after the biopsy be kind and gentle with her. With all my heart I pray for ALL CLEAR to be the result. Mafu, please be with Mum during this biopsy and also when she receives her results. I pray for Mum's continuous strength, health, life. This I pray for all our mothers & fathers, sisters, brothers, friends, lovers...

Om Tara Tare Tam Svaha
Pnum: 114089
Beloved Father God, Holy Mother, Sri Gurudev Isa Mafu & Sacred Ammaji, OM. I bow for the safe life of Carlene A. Thank you for her life. Thank you for her ability to move & keep her and her doggies safe & for your loving guidance at every step. Thank you for the lose ends that are finding their way easily and effortlessly resolved. Thank you for the joy of life. Hare! Hare! Hare! In great Thanksgiving for her life & for the safety of all involved in domestic violence. May there be peace 4 all!


Back to Top