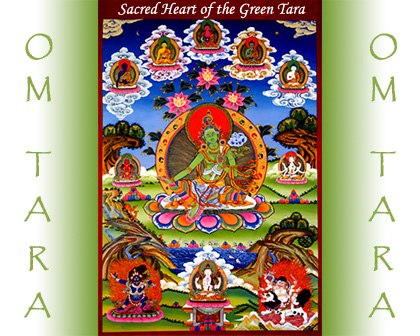 As the Mother of all Healing, the Green Tara shelters All beings in Her Loving embrace and is the Spiritual Bestower of all Health, Upliftment and Well-Being.

The loving embrace of the Goddess Tara radiates outwardly as Kindness, Compassion and Healing for All from worldly or spiritual concerns.

May the powerful blessings of Peace, Health, Wealth and Love be Yours.

May the prayers of all Bodhisattvas and the blessings of all Spiritual Beings enter your heart and hold in their hands all your precious needs. May all your needs be exactly what you intend and may your intentions move in you, from you and return to you with the strength and the power of Living your Life as Divinity Now! So be it!



" May the wicked become good,
May the good obtain peace,
May the peaceful be freed from bonds,
May the free set others free."
- Prayer of a Bodhisattva
Namasté
Om Tara Tare Tam Svaha
Pnum: 114245
Thank You for blessing Helene with sustainable healthful longevity. Please fill every cell in her body with the Light of Pure Life and Health. I pray that anything in Helene's body that doesn't serve Life disappears forever. Please guide her medical team to be brilliant, timely and kind. Please bless Helene with the correct diagnosis and precise treatment that brings her to complete permanent healing Now! Please bless Helene and Eric with strength and faith. Thank You God. Nam Myoho Renge Kyo.

Om Tara Tare Tam Svaha
Pnum: 114244
Beloved Guru Dev, Blessed Healing Goddess Green Tara, we pray in gratitude for Helene's life and path. We pray for her continued healing and complete health. We pray for her Sustainable Stable Healthful Longevity and Sustainable Stable Spiritual Awakening now and always. We pray for strength and courage and calmness for Eric. We pray for Peace on Earth and Everywhere for All Living Beings. Aum Namaha Siva Aum!

Om Tara Tare Tam Svaha
Pnum: 114243
A special prayer for the peoples of Zimbabwe. May there be an end to the violence NOW! God bless and protect those protesting and may they be immediately released from prison. May this country return to peace and prosperity now as the leaders open their hearts to the suffering of their people.I pray this for all countries including our own! So be it. In our GURU'S Grace! AUM AHIMSA AUM! AUM SANTI SANTI SANTI AUM! NAM MYOHO RENGE KYO! NAM MYOHO RENGE KYO! NAM MYOHO RENGE KYO!

Om Tara Tare Tam Svaha
Pnum: 114242
I join in prayer for all in this Temple in need of healing, human and animal, all passed or passing their bodies and all supporting those they love. May all receive the highest treatment, care and support. I give thanks to doctors and vets and all healers.. May all have access to affordable care. In our GURU'S Grace. To Life! Thank You! NAM MYOHO RENGE KYO! NAM MYOHO RENGE KYO! NAM MYOHO RENGE KYO!


Back to Top