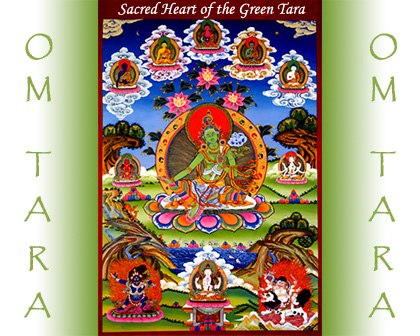 As the Mother of all Healing, the Green Tara shelters All beings in Her Loving embrace and is the Spiritual Bestower of all Health, Upliftment and Well-Being.

The loving embrace of the Goddess Tara radiates outwardly as Kindness, Compassion and Healing for All from worldly or spiritual concerns.

May the powerful blessings of Peace, Health, Wealth and Love be Yours.

May the prayers of all Bodhisattvas and the blessings of all Spiritual Beings enter your heart and hold in their hands all your precious needs. May all your needs be exactly what you intend and may your intentions move in you, from you and return to you with the strength and the power of Living your Life as Divinity Now! So be it!



" May the wicked become good,
May the good obtain peace,
May the peaceful be freed from bonds,
May the free set others free."
- Prayer of a Bodhisattva
Namasté
Om Tara Tare Tam Svaha
Pnum: 114170
I pray with profound gratitude for today's remarkable peaceful transfer of power in our House. I pray in gratitude for the extraordinary women and men who have been chosen to uplift our nation in compassion and peace. Please bless each and every person in our government with open minds and hearts and the ability to be guided in right action. Thank You for the joy of today. May this joy blossom into the peace and upliftment of our Nation and the whole world. Thank You God. Nam Myoho Renge Kyo.

Om Tara Tare Tam Svaha
Pnum: 114169
First and foremost for my beautiful fiancee marifel that she be healed from all cancer and also my sister and that I have financial blessings to continue to help support them and I and to find peace of mind and not lose my faith that love is the truth and that I can stop having stress and anxiety and trust in God

Om Tara Tare Tam Svaha
Pnum: 114168
OmGuruOm, Beloved Guru, i come in prayer for Ishwara for her to have the right medication to help ease the pain in her body~ i pray for all Healing Angels and Guides to surround her with comfort and peace and love~ i pray for her to have all that she needs to be in comfort~ i pray for Your Love to be with her now and always~ thank you, OmGuruOm

Om Tara Tare Tam Svaha
Pnum: 114167
My Beloved Guru, Sri Isa Mafu, Dearest Swami Ammaji, thank you for my spritual path. thank you for my life which is richer and more fullfilling with every breath because of you. I pray on this day, the anniversary of my birth 57 years ago, with so much gratitude that you found me in this lifetime. I pray to be a good disciple and serve God in the highest manner possible now and always. Thank you thank you thank you!


Back to Top