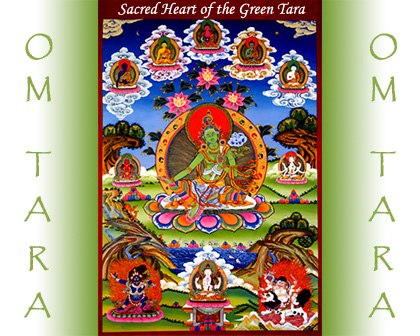 As the Mother of all Healing, the Green Tara shelters All beings in Her Loving embrace and is the Spiritual Bestower of all Health, Upliftment and Well-Being.

The loving embrace of the Goddess Tara radiates outwardly as Kindness, Compassion and Healing for All from worldly or spiritual concerns.

May the powerful blessings of Peace, Health, Wealth and Love be Yours.

May the prayers of all Bodhisattvas and the blessings of all Spiritual Beings enter your heart and hold in their hands all your precious needs. May all your needs be exactly what you intend and may your intentions move in you, from you and return to you with the strength and the power of Living your Life as Divinity Now! So be it!



" May the wicked become good,
May the good obtain peace,
May the peaceful be freed from bonds,
May the free set others free."
- Prayer of a Bodhisattva
Namasté
Om Tara Tare Tam Svaha
Pnum: 116031
We pray for our beloved Ammaji to find peace during this time of loss of her mommy. We pray for Ammaji's Angels of Mercy to comfort her. We love you so much, Ammaji and we hold you close in our hearts. We see Mary being held in the loving arms of her Lord Jesus Christ and happily reunited with her loved ones who have gone before her. Nam Myoho Renge Kyo.

Om Tara Tare Tam Svaha
Pnum: 116030
Fly High Mary!! Fly high into the arms of your Lord Jesus Christ. Our world is a blessed world because of you and your Love, always present, everywhere. We love you and will miss you. I hold in my heart so many happy memories of you. Thank you for being such a loving mommy to so very many. I love you so much. Nam Myoho Renge Kyo.

Om Tara Tare Tam Svaha
Pnum: 116029
My Beloved Father, My Divine Mother, i ask for prayers for our friend Tiffany who is preparing to pass her body, already without brain activity for 3+ days unexpectedly. She is giving life to 3 other people having donated her organs. We pray in Gratitude for her generosity of life & spirit & the time we knew Tiffany. We offer her 2 children & husband, family/friends comfort & peace, knowing she loved so well as to share life with others as she travels beyond the physical body. Thank you.

Om Tara Tare Tam Svaha
Pnum: 116028
Please pray for my friend Robin who will be undergoing surgery today. Please see her recovering quickly and easily and without any problems. Thank you


Back to Top