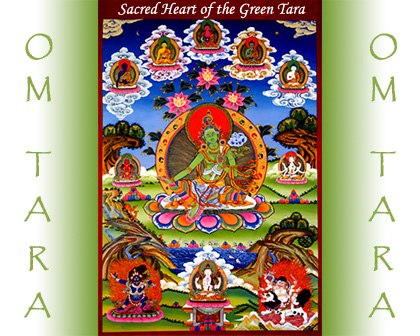 As the Mother of all Healing, the Green Tara shelters All beings in Her Loving embrace and is the Spiritual Bestower of all Health, Upliftment and Well-Being.

The loving embrace of the Goddess Tara radiates outwardly as Kindness, Compassion and Healing for All from worldly or spiritual concerns.

May the powerful blessings of Peace, Health, Wealth and Love be Yours.

May the prayers of all Bodhisattvas and the blessings of all Spiritual Beings enter your heart and hold in their hands all your precious needs. May all your needs be exactly what you intend and may your intentions move in you, from you and return to you with the strength and the power of Living your Life as Divinity Now! So be it!



" May the wicked become good,
May the good obtain peace,
May the peaceful be freed from bonds,
May the free set others free."
- Prayer of a Bodhisattva
Namasté
Om Tara Tare Tam Svaha
Pnum: 116436
I call forth the power of Will Athorn's angels, guides and the Lord God of His Being. I also call forth any other beings or ancestors which are meaningful to Will and his family. May all swelling in Will's body be dissolved and resolved quickly and easily NOW with minimal medical intervention so that his vision is fully and completely resolved! May all medical decisions be made clear and the highest path taken for Will's optimal health. Will is returned to full and vibrant health for a long life.

Om Tara Tare Tam Svaha
Pnum: 116434
Beloved Father💗Blessed Divine Mother💗 Beloved Lord Sananda Jesus💗Beloved Lord Isa Mafu💗I Love You 🙏I pray for healing for my daughter Therese. May she know your loving presence with her, may she recover her will to live, may she be shown loving kindness whilst in the hospital & regain her strength and courage want to live. Nam Myho Renge Kyo Nam Myho Renge Kyo Nam Myho Renge Kyo


Back to Top