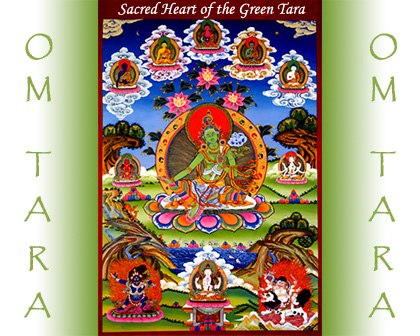 As the Mother of all Healing, the Green Tara shelters All beings in Her Loving embrace and is the Spiritual Bestower of all Health, Upliftment and Well-Being.

The loving embrace of the Goddess Tara radiates outwardly as Kindness, Compassion and Healing for All from worldly or spiritual concerns.

May the powerful blessings of Peace, Health, Wealth and Love be Yours.

May the prayers of all Bodhisattvas and the blessings of all Spiritual Beings enter your heart and hold in their hands all your precious needs. May all your needs be exactly what you intend and may your intentions move in you, from you and return to you with the strength and the power of Living your Life as Divinity Now! So be it!



" May the wicked become good,
May the good obtain peace,
May the peaceful be freed from bonds,
May the free set others free."
- Prayer of a Bodhisattva
Namasté
Om Tara Tare Tam Svaha
Pnum: 114394
I join with Helen in prayers for her precious grand nephew Baylyn to be blessed with sustainable healthful longevity and a long happy, joyful life. Please bless every cell in his body with Your white light of love, healing and pure life. Please fill his lungs with pink healthy cells and perfect health. I pray all medical treatments are gentle and successful with easy swift recoveries. God Goddess and Guru bless little Baylyn, and all children in need. Thank You God. Nam Myoho Renge Kyo.

Om Tara Tare Tam Svaha
Pnum: 114393
Thank You for blessing Ishwara with a peaceful passing to the Light. I pray for her continuing journey in the Heavens to be blessed with the highest possible outcome and her ongoing Awakening. Thank You Mafu for showering Ishwara in her final days with Your constant love and guidance to assist her in her journey through the Veil. Thank you Ammaji for always being available day or night to assist others on their Path. I pray all who are passing are so blessed. Thank You God. Nam Myoho Renge Kyo.

Om Tara Tare Tam Svaha
Pnum: 114392
Thank You for blessing our Foundation with sustainable financial wealth and 67 million dollars. Thank You for our many abundant donations and surprises that bless us with all we need now and more to share. Thank You for blessing Ammaji with strength, swift healing, deep healing sleep, comfort in her body, prayers answered to their highest potential, great happiness and peace of mind. Please bless OTS with protection, abundance, safety, peace and joy. Thank You God. Nam Myoho Renge Kyo.

Om Tara Tare Tam Svaha
Pnum: 114391
God bless GInny R on her safe, smooth travels to be with Sean. Yes! Sean is open to the highest treatment and care for his highest healing and health in body and mind NOW AND ALWAYS! YES! Prayers and chants for the safety and well being of Minette! May this precious family be filled with calm, wisdom and sustainable healthful longevity always! All divinely guided by our GURUDEV! YES! I pray this for all in need. Thank You! NAM MYOHO RENGE KYO! NAM MYOHO RENGE KYO! NAM MYOHO RENGE KYO!

Om Tara Tare Tam Svaha
Pnum: 114390
Beloved Father I Love You. May the Oregon tiger sanctuary receive now the money to easily and comfortably care for the wild and domestic, animal and human. Yes, money comes to OTS easily constantly and abundantly! So be it. Thank you God Thank you Goddess Than You Guru! Aum Namah Siva Aum. Nammyohorengekyo nammyohorengekyo nammyohorengekyo nammyohorengekyo nammyohorengekyo nammyohorengekyo


Back to Top