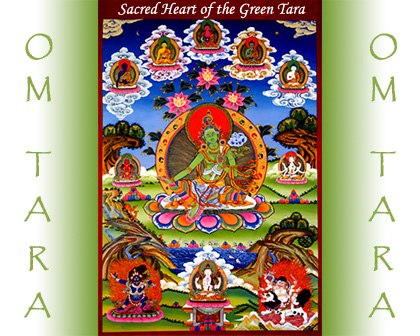 As the Mother of all Healing, the Green Tara shelters All beings in Her Loving embrace and is the Spiritual Bestower of all Health, Upliftment and Well-Being.

The loving embrace of the Goddess Tara radiates outwardly as Kindness, Compassion and Healing for All from worldly or spiritual concerns.

May the powerful blessings of Peace, Health, Wealth and Love be Yours.

May the prayers of all Bodhisattvas and the blessings of all Spiritual Beings enter your heart and hold in their hands all your precious needs. May all your needs be exactly what you intend and may your intentions move in you, from you and return to you with the strength and the power of Living your Life as Divinity Now! So be it!



" May the wicked become good,
May the good obtain peace,
May the peaceful be freed from bonds,
May the free set others free."
- Prayer of a Bodhisattva
Namasté
Om Tara Tare Tam Svaha
Pnum: 114654
In Your Grace blessed Mafu, please help us to move banks easily and swiftly please. Please guide all of us, and please help us to release from the negativity of our current bank and move into a healthy, positive relationship with our new bank. Please help everyone who needs to change banks for their greater prosperity, and let it be a soft, easy process that will benefit everyone. May everyone seeking sustainable financial wealth find ways that support their prosperity for the good of all.

Om Tara Tare Tam Svaha
Pnum: 114653
I pray for those who passed their bodies in the shootings in El Paso, TX and Dayton, OH. May those who passed find peace on the other side & that they go to their God & their heaven. May their families be surrounded by angels & be comforted and find peace. May their be a greater Respect for Life & Diversity in our country. May people learn to put themselves in other's shoes. May our leaders use words to Unify & Respect others Not divide & pass Gun Safety laws NOW. Nam Myoho Renge Kyo

Om Tara Tare Tam Svaha
Pnum: 114652
God bless the souls of all passed in El Paso and Dayton Ohio. May all injured recover swiftly. May all be given the emotional support and help they need in their grief. I pray incessantly for minds and hearts to open to the truth that we are ONE. I am so very sorry for this suffering. Peace on Earth and Everywhere for ALL Living Beings. In our GURU'S Grace! AUM AHIMSA AUM! AUM AHIMSA AUM! AUM AHIMSA AUM! NAM MYOHO RENGE KYO! NAM MYOHO RENGE KYO! NAM MYOHO RENGE KYO!

Om Tara Tare Tam Svaha
Pnum: 114651
Beloved Father💗Blessed Divine Mother💗Lord Isa Mafu💗Lord Sananda Jesus💗 I pray for Andrew C, father of my gr'daughter Tiani. Please be with with Andrew as he is preparing his journey home to you. The lesions have metastasised from brain to lungs, liver. Isa Mafu, pls be with him, he desires to pass consciously to be you. May he know your Presence & know himself as only Love.💗Nam Myoho Renge Kyo Nam Myoho Renge Kyo Nam Myoho Renge Kyo


Back to Top