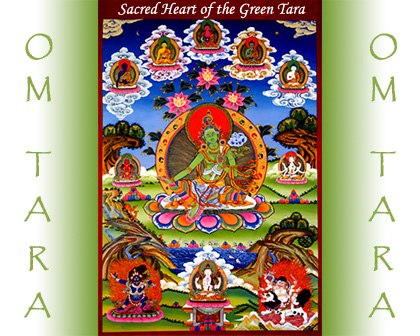 As the Mother of all Healing, the Green Tara shelters All beings in Her Loving embrace and is the Spiritual Bestower of all Health, Upliftment and Well-Being.

The loving embrace of the Goddess Tara radiates outwardly as Kindness, Compassion and Healing for All from worldly or spiritual concerns.

May the powerful blessings of Peace, Health, Wealth and Love be Yours.

May the prayers of all Bodhisattvas and the blessings of all Spiritual Beings enter your heart and hold in their hands all your precious needs. May all your needs be exactly what you intend and may your intentions move in you, from you and return to you with the strength and the power of Living your Life as Divinity Now! So be it!



" May the wicked become good,
May the good obtain peace,
May the peaceful be freed from bonds,
May the free set others free."
- Prayer of a Bodhisattva
Namasté
Om Tara Tare Tam Svaha
Pnum: 114248
Dearest Master of my heart, I give this to you and I am so grateful for this experience. I am truly grateful-thank you. Now, I give it all to you. It belongs to You. What did not occur and what did occur, it all belongs to You and I remain in graceful gratitude. I am so thankful. And thank you for taking the confusion & the suffering too, and uplifting it in Your Grace. Show me the Way from here, Goddess. May I hear You, listen to You, and always respond to You in dignity & grace, in Love.

Om Tara Tare Tam Svaha
Pnum: 114247
OmGuruOm, my Beloved Guru, Blessed Ammaji, please help me know, if possible what is the right action to take now with helping Ishwara~ she is in tremendous pain, can not sleep well, can not walk, and i believe needs intervention and medical help to make her more comfortable in her body and mind~ i want to respect her wishes and i also feel she is need of greater assistance~ i appreciate anyone who can pray for her now, and that better guidance come forth~ thank you, OmGuruOmGuruOm

Om Tara Tare Tam Svaha
Pnum: 114246
Beloved Mafu, I ask that your Love, your Grace and blessings of health are upon my grand-daughter, Arianna. Her bladder is now in perfect health, functioning optimally and normally. She is in a perfect state of sustainable well being. So Be It! Thank you Mafu! Aum Guru Aum. My heart to your heart.


Back to Top