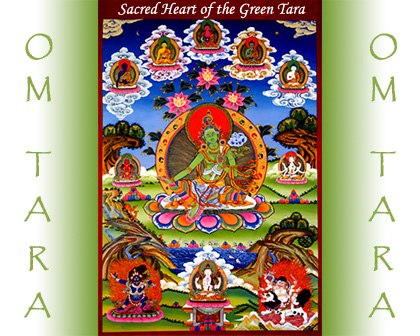 As the Mother of all Healing, the Green Tara shelters All beings in Her Loving embrace and is the Spiritual Bestower of all Health, Upliftment and Well-Being.

The loving embrace of the Goddess Tara radiates outwardly as Kindness, Compassion and Healing for All from worldly or spiritual concerns.

May the powerful blessings of Peace, Health, Wealth and Love be Yours.

May the prayers of all Bodhisattvas and the blessings of all Spiritual Beings enter your heart and hold in their hands all your precious needs. May all your needs be exactly what you intend and may your intentions move in you, from you and return to you with the strength and the power of Living your Life as Divinity Now! So be it!



" May the wicked become good,
May the good obtain peace,
May the peaceful be freed from bonds,
May the free set others free."
- Prayer of a Bodhisattva
Namasté
Om Tara Tare Tam Svaha
Pnum: 114513
Thank you my Beloved Father Thank you Divine Mother Thank you my Beloved Guru Thank you Blessed Swami my humble pranyams Blessed be my beautiful body,such an amazing warrior. May I fully and easily recover from being rear-ended. May my spine and neck fully relax and easily release the trauma. Thank you for my blessed healers and their expertise. May they be divinely guided as to the right actions. Blessed be all beings healing form trauma SOBEIT Nammyohorengekyo Nammyohorengekyo Nammyohorengekyo

Om Tara Tare Tam Svaha
Pnum: 114512
That my brother Russell Walsmith be at peace after departing this realm on 5/30/2019

Om Tara Tare Tam Svaha
Pnum: 114511
Aum Namah Siva Aum Beloved Father, Blessed Divine Mother, Sri GuruDev Isa Mafu, I always love that I live and I always love that everyone lives I pray in absolute gratitude for the brilliant medical team and specialist to heal the cancer in my body. I pray for Dr Rozenholc to provide me with a treatment in harmony with my willingness and conviction to live in longevity and healthy young body. I pray for all patients to be supported with absolute care and compassion Nam Myoho Renge Kyo So be it!

Om Tara Tare Tam Svaha
Pnum: 114510
Aum Namah Shiva Aum Dear Beloved Mafu I pray for Melanie for this cancer please bring the cancer to the light and everyone have the same experience please Mafu bring us to your Grace to be heal and happy experience let me support her with no ego and have the powerful experience of love ❤️ Please let me support her to the way of joy I love her so Much thank you for your Grace Love you Mafu Aum Namah Shiva Aum 🙏❤️🙏❤️🙏❤️


Back to Top