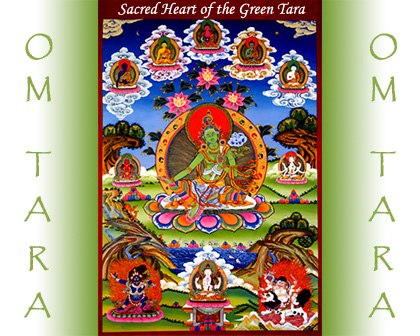 As the Mother of all Healing, the Green Tara shelters All beings in Her Loving embrace and is the Spiritual Bestower of all Health, Upliftment and Well-Being.

The loving embrace of the Goddess Tara radiates outwardly as Kindness, Compassion and Healing for All from worldly or spiritual concerns.

May the powerful blessings of Peace, Health, Wealth and Love be Yours.

May the prayers of all Bodhisattvas and the blessings of all Spiritual Beings enter your heart and hold in their hands all your precious needs. May all your needs be exactly what you intend and may your intentions move in you, from you and return to you with the strength and the power of Living your Life as Divinity Now! So be it!



" May the wicked become good,
May the good obtain peace,
May the peaceful be freed from bonds,
May the free set others free."
- Prayer of a Bodhisattva
Namasté
Om Tara Tare Tam Svaha
Pnum: 116532
Om Tara Om~I pray today for my neighbour K.A. who is due for surgery to remove cancer on Monday 06MAR23. I pray his surgeons, docs, nurses and all medical professionals treat him with dignity and strength and grace. I pray for the very highest and best outcome for him, and for every single person, animal, all beings who must have cancers removed. Thank you. Thank you. Thank you.

Om Tara Tare Tam Svaha
Pnum: 116531
Om Guru Om~I come in prayer today for everyone who requires health, healing & correct, precise diagnosis for their bodies. I pray this as well for myself. For my successful examination of nodules with Prof T.I on 09Mar23; for successful gynaecological procedure with Dr. M.B on 23Mar23; for correct & precise diagnosis with neurologist Prof R.G. on 03Apr23. I give great thanks for kindness, love, compassion, professionalism and excellent medical care from all docs, nurses, specialists. Thank you.


Back to Top