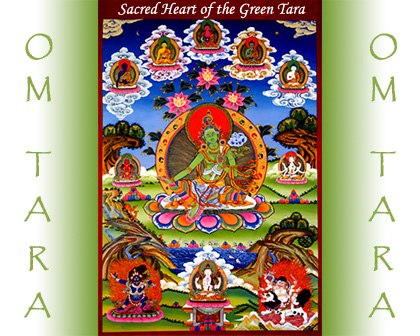 As the Mother of all Healing, the Green Tara shelters All beings in Her Loving embrace and is the Spiritual Bestower of all Health, Upliftment and Well-Being.

The loving embrace of the Goddess Tara radiates outwardly as Kindness, Compassion and Healing for All from worldly or spiritual concerns.

May the powerful blessings of Peace, Health, Wealth and Love be Yours.

May the prayers of all Bodhisattvas and the blessings of all Spiritual Beings enter your heart and hold in their hands all your precious needs. May all your needs be exactly what you intend and may your intentions move in you, from you and return to you with the strength and the power of Living your Life as Divinity Now! So be it!



" May the wicked become good,
May the good obtain peace,
May the peaceful be freed from bonds,
May the free set others free."
- Prayer of a Bodhisattva
Namasté
Om Tara Tare Tam Svaha
Pnum: 115115
I join Francis in convicted prayer for his brother and sister in law. God bless this devoted couple. May they receive the kind, compassionate treatment and care they need and deserve. I am so sorry for their suffering and pray for peace and strength for Francis, Helene and their family supporting them remotely with so much love. I am praying for all affected and giving thanks for all medics, nurses, hospital workers caring for all in need. In our GURU'S Grace! NAM MYOHO RENGE KYO!

Om Tara Tare Tam Svaha
Pnum: 115114
Thank you again & again our beloved GURUDEV SRI SRI ISA MAFU & our cherished SWAMI Ammaji! The brilliance of MAFU'S wisdom, the Power of His Shakti made possible by our most precious Ammaji, an Oracle beyond compare! Thank you also for the practices which are so healing, so opening of mind, heart & body. How blessed are we! Joining in convicted prayer & chant for the effective treatment NOW & the protection & safety of the Scientific Masterminds in their noble work. YES! NAM MYOHO RENGE KYO!


Back to Top