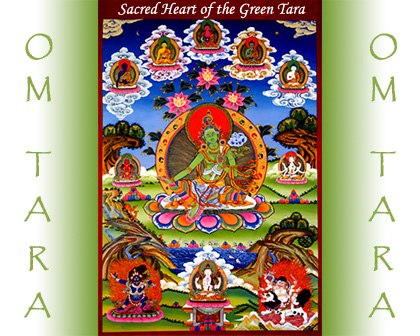 As the Mother of all Healing, the Green Tara shelters All beings in Her Loving embrace and is the Spiritual Bestower of all Health, Upliftment and Well-Being.

The loving embrace of the Goddess Tara radiates outwardly as Kindness, Compassion and Healing for All from worldly or spiritual concerns.

May the powerful blessings of Peace, Health, Wealth and Love be Yours.

May the prayers of all Bodhisattvas and the blessings of all Spiritual Beings enter your heart and hold in their hands all your precious needs. May all your needs be exactly what you intend and may your intentions move in you, from you and return to you with the strength and the power of Living your Life as Divinity Now! So be it!



" May the wicked become good,
May the good obtain peace,
May the peaceful be freed from bonds,
May the free set others free."
- Prayer of a Bodhisattva
Namasté
Om Tara Tare Tam Svaha
Pnum: 114396
Beloved father I love you. Please surround Ben White and his two daughters Madison age 13 and Siena age 11 and your golden white healing light. Please surround Kate Z in your healing golden white light. I pray for immediate Harmony and Right Action between Kate and Ben. I pray their daughters find peace and forgiveness in their hearts and their words are filled with loving kindness always. May there be an immediate healing for all. Yes! So be it! Thank you Mafu! Nammyohorengekyo! Siva Aum

Om Tara Tare Tam Svaha
Pnum: 114395
The mother of two of my Hispanic students has been a great friend of mine for many years just learned the her husband was sexually abusing their daughter when she was 9 or 10 and her daughter just confided the abuse last month. Her husband took off to Mexico with the families savings all their paper work on the property they had. Please pray for her that she will be able to rebuild her life and financial security for her familyso she can regain stability and what is legitimately hers.


Back to Top