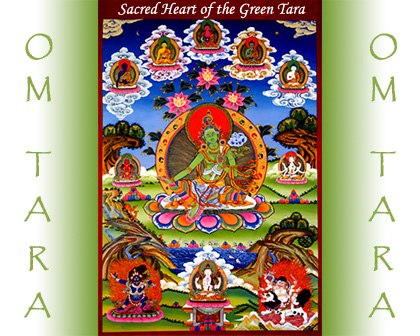 As the Mother of all Healing, the Green Tara shelters All beings in Her Loving embrace and is the Spiritual Bestower of all Health, Upliftment and Well-Being.

The loving embrace of the Goddess Tara radiates outwardly as Kindness, Compassion and Healing for All from worldly or spiritual concerns.

May the powerful blessings of Peace, Health, Wealth and Love be Yours.

May the prayers of all Bodhisattvas and the blessings of all Spiritual Beings enter your heart and hold in their hands all your precious needs. May all your needs be exactly what you intend and may your intentions move in you, from you and return to you with the strength and the power of Living your Life as Divinity Now! So be it!



" May the wicked become good,
May the good obtain peace,
May the peaceful be freed from bonds,
May the free set others free."
- Prayer of a Bodhisattva
Namasté
Om Tara Tare Tam Svaha
Pnum: 114915
Beloved Ones, please bless Willis with protection and safety, and the blessing of being safely home with his family. I pray with Christian for Willis, canine child of his cousin Jen and her family to immediately return home, safe and happy. May all his angels guide him to his family's arms. I pray this for Willis and all missing animal children to be returned swiftly and safely home to their families. So be it, thank You God. Nam Myoho Renge Kyo.

Om Tara Tare Tam Svaha
Pnum: 114914
I pray Ammaji's prayer for peace on earth and everywhere for all living beings. I pray for Peace between America and Iraq, and I am so sorry for Trump's aggression and need for war. I pray for diplomacy to be the answer to the escalated tensions with Iraq. I pray for the people of Iraq to not retaliate I pray for peace between America and Iraq. I pray for all Americans, especially Republicans to condemn this aggression and demand Peace and Life. So be it. Thank You God. Nam Myoho Renge Kyo.

Om Tara Tare Tam Svaha
Pnum: 114913
I pray with Connie for the blessing of sustainable healthful longevity. Please bless Connie's digestive system with immediate healing. I only see her digestive system healthy and healed, Now as it is before when it is young and perfect. I pray Connie is blessed with the highest medical support that brings her to perfect, balanced health. Thank You for Connie's healing and her embracing all that will keep her young and healthy. So be it, thank You God. Nam Myoho Renge Kyo.

Om Tara Tare Tam Svaha
Pnum: 114912
Thank You for blessing our Foundation with sustainable financial wealth and 67 million dollars. Thank You for our many wonderful donations that bless us with all we need and more to share. Thank You for blessing Ammaji with strength, swift perfect healing, comfort in her body, deep peaceful healing sleep, prayers answered to their highest potential, great happiness and peace of mind. Please bless OTS with protection, abundance, safety, health joy and peace. Thank You God. Nam Myoho Renge Kyo.

Om Tara Tare Tam Svaha
Pnum: 114911
Please bless the precious Land of Australia with peace and healing and an immediate end to the fires. Please bless the precious people of Australia with safety, strength, courage and peace of mind. I pray for the safety of all Life. Please end the fires, and clear the air for all to breath. Please send Your highest blessings of safety and protection to all firefighters and all who are helping to keep everyone safe. I pray over and over to save all animal life. Thank You God. Nam Myoho Renge Kyo.

Om Tara Tare Tam Svaha
Pnum: 114910
Please hear our prayers and help us end the tragic fires in Australia. I pray for cool temperatures, still winds, air clear and heavy with moisture, and precious rain to fall on all land in need. I beg You, please do not let another wild or domestic one die. Please heal those who have been injured. Please bless all who are helping them with all they need for their recovery. Please bless all firefighters with safety, strength and all they need for success. Thank You God. Nam Myoho Renge Kyo.

Om Tara Tare Tam Svaha
Pnum: 114909
very urgent prayers requested for an immediate financial blessing. Praise the lord


Back to Top