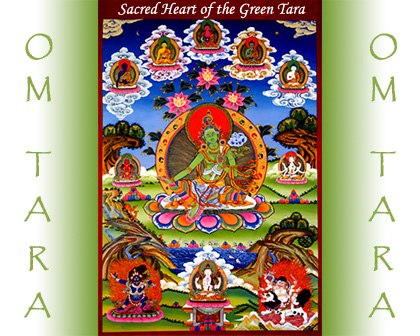 As the Mother of all Healing, the Green Tara shelters All beings in Her Loving embrace and is the Spiritual Bestower of all Health, Upliftment and Well-Being.

The loving embrace of the Goddess Tara radiates outwardly as Kindness, Compassion and Healing for All from worldly or spiritual concerns.

May the powerful blessings of Peace, Health, Wealth and Love be Yours.

May the prayers of all Bodhisattvas and the blessings of all Spiritual Beings enter your heart and hold in their hands all your precious needs. May all your needs be exactly what you intend and may your intentions move in you, from you and return to you with the strength and the power of Living your Life as Divinity Now! So be it!



" May the wicked become good,
May the good obtain peace,
May the peaceful be freed from bonds,
May the free set others free."
- Prayer of a Bodhisattva
Namasté
Om Tara Tare Tam Svaha
Pnum: 116038
Beloved Guru, blessed Goddess, Highest Healing Dieties, Please assist my good friend P and her family. Each one has significant medical issues needing attention or surgery and several have covid. My friend is working very hard in adverse circumstances to stay in peace and joy to assist her own healing process. Please let her know you are with her. Additionally, I pray for a peaceful attitude in their house and upliftment in all interactions. I am so grateful for your help. Thank you!!

Om Tara Tare Tam Svaha
Pnum: 116037
In the highest light & love of Lord Jesus Christ I celebrate an extraordinary woman, mother, child of God, lover of God, mother of my Swami, Mary who was always so kind, patient & loving. Thank you for birthing your children & being so incredibly supportive of always helping to make it easier for Mafu to come. I thank God that all of your suffering is done forever! I am so sorry for this. Now you are so free! Fly high & freely embraced by all those you cherish and love. So it is!


Back to Top