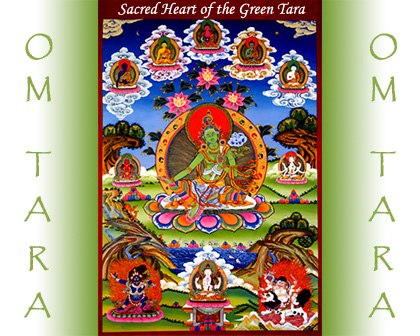 As the Mother of all Healing, the Green Tara shelters All beings in Her Loving embrace and is the Spiritual Bestower of all Health, Upliftment and Well-Being.

The loving embrace of the Goddess Tara radiates outwardly as Kindness, Compassion and Healing for All from worldly or spiritual concerns.

May the powerful blessings of Peace, Health, Wealth and Love be Yours.

May the prayers of all Bodhisattvas and the blessings of all Spiritual Beings enter your heart and hold in their hands all your precious needs. May all your needs be exactly what you intend and may your intentions move in you, from you and return to you with the strength and the power of Living your Life as Divinity Now! So be it!



" May the wicked become good,
May the good obtain peace,
May the peaceful be freed from bonds,
May the free set others free."
- Prayer of a Bodhisattva
Namasté
Om Tara Tare Tam Svaha
Pnum: 115729
Prayers for Amin who is recovering from a COVID-19 infection. He is doing much better as he was vaccinated before being infected. May his visit with this virus be brief, and may there be no long term effects. May the love of Allah fill his cells. So Be It.

Om Tara Tare Tam Svaha
Pnum: 115728
Thank you! Thank you! Thank you! I got an appointment today for 25th July to get my first dose Pfeizer vaccine! Thank you God! Thank you for the person whose place became available for me! Thank you Universe! I am praying that all Australians have access to the very best vaccines and AVAILABILITY TO GET VACCINATED against COVID-19 NOW! This I also pray for our entire world, in particular developing countries & -Pakistan,Bangladesh,India,Brazil,UK,Colombia,USARussia, France,Italy,Turkey,Argentina

Om Tara Tare Tam Svaha
Pnum: 115727
Aum Namah Shiva Aum my Beloved SriGuruDev Isa Mafu, I pray at your lotus feet with overwhelming gratitude to have been touched by you in this lifetime my heart overflows with such joy and wonderment for the magnificence of your love I pray to truly feel worthy of knowing you, of touching you, of being in your Grace, your audience, your presence YES, I love you and finally for the first time I start to feel love for myself and for my life I love you, I love you, I love you So be it! Aum Aum Aum

Om Tara Tare Tam Svaha
Pnum: 115726
Aum Namah Shiva Aum SriGuruDev Isa Mafu, Beloved Father, Benevolent Mother, my guides, angels, archangels, Prophète Elie, Ammaji, my most blessed Divine Self, I pray with every cell of my body to sustain and maintain focus to forgive myself, to manifest the miracle of healing my liver, peritoneum and all other organs affected by cancer in my precious body I am worthy of this miracle, YES, I believe in my power of self-love and self-compassion, I command my body to respond to my new treatment YES

Om Tara Tare Tam Svaha
Pnum: 115725
Aum Namah Shiva Aum Sri GuruDev Isa Mafu Magnetic Healing Power of Lord Jesus Christ I come to you and bow at your sacred feet and pray for all my cells in my body to activate the miracle of self-love and self-forgiveness I am now! I am a miracle, I am worthy of healing my body from cancer now and always that is the only truth YES, I am worthy of longevity in my body, each cell of my body feel it so strongly with such love, intensity I bow at your feet and embrace my suffering I am life So be it


Back to Top