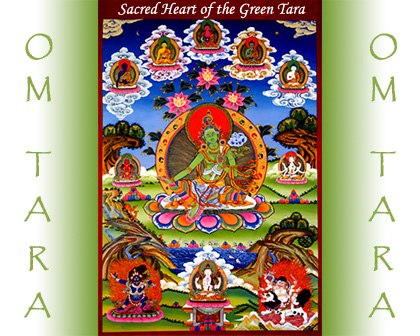 As the Mother of all Healing, the Green Tara shelters All beings in Her Loving embrace and is the Spiritual Bestower of all Health, Upliftment and Well-Being.

The loving embrace of the Goddess Tara radiates outwardly as Kindness, Compassion and Healing for All from worldly or spiritual concerns.

May the powerful blessings of Peace, Health, Wealth and Love be Yours.

May the prayers of all Bodhisattvas and the blessings of all Spiritual Beings enter your heart and hold in their hands all your precious needs. May all your needs be exactly what you intend and may your intentions move in you, from you and return to you with the strength and the power of Living your Life as Divinity Now! So be it!



" May the wicked become good,
May the good obtain peace,
May the peaceful be freed from bonds,
May the free set others free."
- Prayer of a Bodhisattva
Namasté
Om Tara Tare Tam Svaha
Pnum: 114328
I pray for the immediate release of all immigrant children and their return to those who love them. I pray that all mental, physical and emotional trauma be healed and released from their bodies. I pray those caring for them are compassionate and kind. Please, help us end this cruelty. Please guide all Americans to demand an end to the torture of children. Please help us immediately rid our government of donald trump and his cohorts. I pray our government returns to the Light. Thank You God. Aum

Om Tara Tare Tam Svaha
Pnum: 114327
I pray for peace on earth and everywhere for all living beings. Please heal America, Afghanistan, Syria, Yemen, the Middle East, Russia, China, Africa, Mexico, Central America, No.Korea, our World. May all suffering be uplifted. I pray for all pure water, healthy food, right medicine, safe shelter, clean air, justice, tolerance, forgiveness, compassion, equality for women, protection for children, compassion for animals, immediate healing for our planet. Thank You God. Nam Myoho Renge Kyo.

Om Tara Tare Tam Svaha
Pnum: 114326
Thank You for blessing us with sustainable financial wealth and 67 million dollars. Thank You for our many donations that bless us with all we need and more to share. Thank You for blessing Ammaji with strength, swift permanent perfect healing, comfort and youth in her body, deep healing sleep, , prayers answered to their highest potential, great happiness and sweet peace of mind. Please bless OTS with protection, abundance, safety, health, peace and joy. Thank You God. Nam Myoho Renge Kyo.

Om Tara Tare Tam Svaha
Pnum: 114325
Thank You for blessing Ishwara with peace comfort and acceptance. I pray her meditations bring her the outcome she desires. Thank You Mafu for always loving us and bringing us the Truth. Thank you Ammaji for your devotion, compassion and desire to uplift everyone in love. Please bless Ishwara with a swift and gentle journey through the veil. I pray she finds herself in the arms of her Beloved Guru, knowing herself as Love. I pray this for all who are passing. Thank You God. Nam Myoho Renge Kyo.

Om Tara Tare Tam Svaha
Pnum: 114324
Beloved Isa Mafu, Dearest Ammaji, I am so grateful for your assistance in this challenging time. Through my heart, I feel the grace of your blessings. My body is getting stronger every day. I so appreciate everyone prayers, good thoughts and visits. I pray for all of your continued support. Yes, my body is now as it was before…healthy, strong and alive, filled with joy & peace. I offer my Pranams to you beloved Mafu, Sweet Ammaji and everyone supporting me. I Love you all💖 Om Nama Shivaya


Back to Top