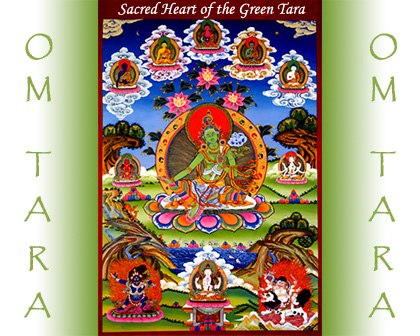 As the Mother of all Healing, the Green Tara shelters All beings in Her Loving embrace and is the Spiritual Bestower of all Health, Upliftment and Well-Being.

The loving embrace of the Goddess Tara radiates outwardly as Kindness, Compassion and Healing for All from worldly or spiritual concerns.

May the powerful blessings of Peace, Health, Wealth and Love be Yours.

May the prayers of all Bodhisattvas and the blessings of all Spiritual Beings enter your heart and hold in their hands all your precious needs. May all your needs be exactly what you intend and may your intentions move in you, from you and return to you with the strength and the power of Living your Life as Divinity Now! So be it!



" May the wicked become good,
May the good obtain peace,
May the peaceful be freed from bonds,
May the free set others free."
- Prayer of a Bodhisattva
Namasté
Om Tara Tare Tam Svaha
Pnum: 114717
Mother Father God, Lord Isa Mafu I pray for Mina that she is held in your arms and that she fly to the highest heaven merged ever more in complete Love. May Ammaji and all of Mina's family & friends be comforted by holy angels and some how find peace at this time. Thank you for Mina's beautiful & kind heart that affected me and all people around her. Thank you for her positive nature and wonderful sense of humor and laughter that uplifted everyone & the planet. God Bless you always.

Om Tara Tare Tam Svaha
Pnum: 114716
My beautiful, wonderful silver Arabian horse has had all sorts of illnesses stress in the last 11 months. His immune system has been depleted . Please pray and chant for him to make a full recovery and return to being the great horse he was and can be again. Being the best rider I can be is how I pursue sattwa and work to stay in beginners mind. Thank you Ammagi, residents and fellow disciples of Lord Isa Mafu.

Om Tara Tare Tam Svaha
Pnum: 114715
I pray for the Bahamas and her people. May all people who have passed their bodies in this Hurricane fly to their God, to their Heavens. May they find peace and may their families be comforted by holy angels. May all those who have survived (both human & animals) receive all the food, water, medical attention, and shelter that they need. May countries around the world help the Bahamas rebuild or take people in. Thank you. Nam Myoho Renge Kyo, Nam Myoyo Renge Kyo, Nam Myoho Renge Kyo


Back to Top