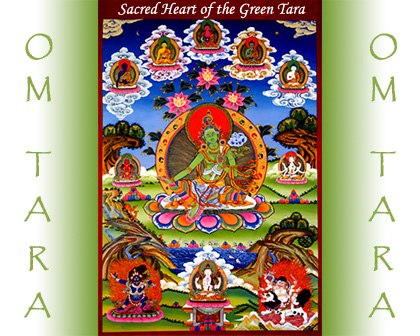 As the Mother of all Healing, the Green Tara shelters All beings in Her Loving embrace and is the Spiritual Bestower of all Health, Upliftment and Well-Being.

The loving embrace of the Goddess Tara radiates outwardly as Kindness, Compassion and Healing for All from worldly or spiritual concerns.

May the powerful blessings of Peace, Health, Wealth and Love be Yours.

May the prayers of all Bodhisattvas and the blessings of all Spiritual Beings enter your heart and hold in their hands all your precious needs. May all your needs be exactly what you intend and may your intentions move in you, from you and return to you with the strength and the power of Living your Life as Divinity Now! So be it!



" May the wicked become good,
May the good obtain peace,
May the peaceful be freed from bonds,
May the free set others free."
- Prayer of a Bodhisattva
Namasté
Om Tara Tare Tam Svaha
Pnum: 116039
My Beloved One, I see my sister and her sons and grandson easily recovered from covid and that the wound on her right knee is healed and no surgery is needed. I pray all people take covid seriously as a medical crisis and get vaccinated and use mitigation measures. I pray that I'm able to be at peace with those misguided to think covid is no more serious than a cold and all measures to stop the spread are dangerous or taking away their freedom. Thank you. Nam Myoho Renge Kyo, So Mote It Be.


Back to Top