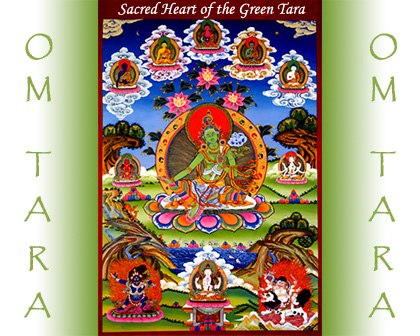 As the Mother of all Healing, the Green Tara shelters All beings in Her Loving embrace and is the Spiritual Bestower of all Health, Upliftment and Well-Being.

The loving embrace of the Goddess Tara radiates outwardly as Kindness, Compassion and Healing for All from worldly or spiritual concerns.

May the powerful blessings of Peace, Health, Wealth and Love be Yours.

May the prayers of all Bodhisattvas and the blessings of all Spiritual Beings enter your heart and hold in their hands all your precious needs. May all your needs be exactly what you intend and may your intentions move in you, from you and return to you with the strength and the power of Living your Life as Divinity Now! So be it!



" May the wicked become good,
May the good obtain peace,
May the peaceful be freed from bonds,
May the free set others free."
- Prayer of a Bodhisattva
Namasté
Om Tara Tare Tam Svaha
Pnum: 115166
Beloved Lord, Divine Goddess, I enter here to pray for Andrew S. who is in a mental health crisis and suicidal, as well as struggling with substance abuse. I see Andrew embracing life, knowing his worth, knowing he's loved, and experiencing mastery over his addictions. I pray this for all people feeling suicidal, in mental health crisis, and struggling with addiction. Thank you God so it is done.

Om Tara Tare Tam Svaha
Pnum: 115165
My Beloved Mafu, My Precious Swami, Ammaji, Angels and Guides, Peoples of the Sky, Thank you for my Life with You, Thank You for the many Blessings you have given to me,Thank You for Your Patience and Caring Always! Thank You for the awareness and clarity that woke me up this morning. I am so humbled by Your Grace. Thank You. I Love You. OmGuruOmGuruOmGuruOm

Om Tara Tare Tam Svaha
Pnum: 115164
Most Precious Lord,Sri Guru Dev,Divine Most Holy Mother, Highest Holy Healing Angels, I pray earnestly for my very best friend from my college days in Alabama, Brenda KH, who has been diagnosed with Follicular Lymphoma,a Non-Hodgkin's Lymphoma.She will begin chemotherapy on June 19th..May her beautiful body respond perfectly to All treatment for this disease and may she embrace her health and Life fully leading to an "All Clear" outcome..God Bless her Loving family.Thank You...NamMyohoRengeKo


Back to Top