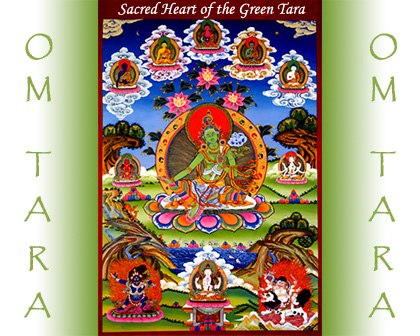 As the Mother of all Healing, the Green Tara shelters All beings in Her Loving embrace and is the Spiritual Bestower of all Health, Upliftment and Well-Being.

The loving embrace of the Goddess Tara radiates outwardly as Kindness, Compassion and Healing for All from worldly or spiritual concerns.

May the powerful blessings of Peace, Health, Wealth and Love be Yours.

May the prayers of all Bodhisattvas and the blessings of all Spiritual Beings enter your heart and hold in their hands all your precious needs. May all your needs be exactly what you intend and may your intentions move in you, from you and return to you with the strength and the power of Living your Life as Divinity Now! So be it!



" May the wicked become good,
May the good obtain peace,
May the peaceful be freed from bonds,
May the free set others free."
- Prayer of a Bodhisattva
Namasté
Om Tara Tare Tam Svaha
Pnum: 114719
Prayers for all passed, all affected in the Bahamas& in the path of the storm.May aid come swiftly & efficiently to all in need.I give thanks to Jon Rose & his amazing Waves for Water & all who are helping so selflessly& tirelessly to those in need. May all hearts open to assist in this suffering. May all minds open to the reality of climate change. I am so sorry for this suffering.God bless & protect our Planet & all inhabitants, human, wild & domestic.In our GURU'S Grace. NAM MYOHO RENGE KYO!

Om Tara Tare Tam Svaha
Pnum: 114718
I give thanks for the life of precious, cherished Mina who inspired and uplifted all with her courage, strength and the generosity of her immense heart. Prayers, blessings and love to our beloved Ammaji, Tony and all her devoted family and friends. Mankind is greater that she came. God bless all passed to the Light and all who love them. In our GURU'S Grace! AUM NAMAHA SIVA AUM! AUM NAMAHA SIVA AUM! AUM NAMAHA SIVA AUM!


Back to Top