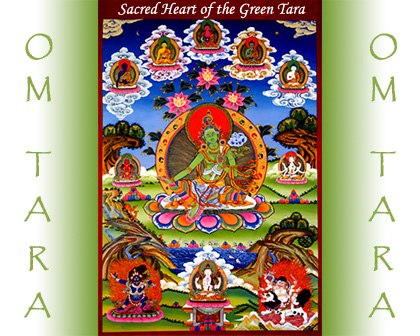 As the Mother of all Healing, the Green Tara shelters All beings in Her Loving embrace and is the Spiritual Bestower of all Health, Upliftment and Well-Being.

The loving embrace of the Goddess Tara radiates outwardly as Kindness, Compassion and Healing for All from worldly or spiritual concerns.

May the powerful blessings of Peace, Health, Wealth and Love be Yours.

May the prayers of all Bodhisattvas and the blessings of all Spiritual Beings enter your heart and hold in their hands all your precious needs. May all your needs be exactly what you intend and may your intentions move in you, from you and return to you with the strength and the power of Living your Life as Divinity Now! So be it!



" May the wicked become good,
May the good obtain peace,
May the peaceful be freed from bonds,
May the free set others free."
- Prayer of a Bodhisattva
Namasté
Om Tara Tare Tam Svaha
Pnum: 114927
Beloved Ones, please help us to diplomatically alter the situation trump created in Iran by his attack. This is a terrifying moment for our world, and we need Your direct guidance so that cooler heads prevail in our Government who can stop trump from his evil intent. I ask Iran's forgiveness as it was not the American people who did this. It was Trump and his supporters. Please do not let this escalate any further. Please send Peace Peace Peace. So be it, thank You God. Nam Myoho Renge Kyo.

Om Tara Tare Tam Svaha
Pnum: 114926
Please send Your divine power to extinguish all fires in Australia now, please. So many have died and so many more will unless these fires are stopped. Please guide us in the highest ways to contain them. Please send cooler temperatures. Please send calm wind. Please send clear air heavy with moisture. Please send rain to fall upon all land in need. Please save the lives of the wild ones. Please help those who are suffering. Please end this horror. So be it, thank You God. Nam Myoho Renge Kyo.

Om Tara Tare Tam Svaha
Pnum: 114925
Beloved Isa Mafu I pray in gratitude for my son Ansons speedy recovery as he is now able to stand and walk! Hare!!! I pray in gratitude for the healing of all those recovering from illness and virus s in their bodies❤️🙏❤️🙏❤️🙏

Om Tara Tare Tam Svaha
Pnum: 114924
Namaste 🙏 in deep and humble gratitude and respect I request prayers for my son Anson who after having a fever and flu like symptoms is experiencing what we believe is acute childhood myositis which is indicated by his inability to walk or stand due to pain/inflammation in the muscles which is caused from the virus. I see his body healthy and healed NOW AND completely recovery of his healthy strong body . I pray for all of those affected by viruses and that they be ALL CLEAR HEALTHY AND STRONG


Back to Top