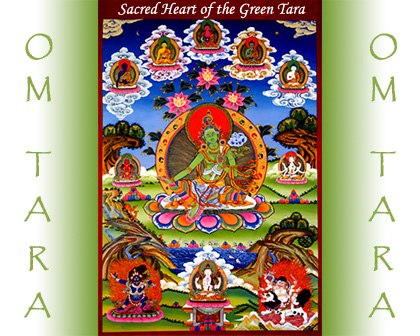 As the Mother of all Healing, the Green Tara shelters All beings in Her Loving embrace and is the Spiritual Bestower of all Health, Upliftment and Well-Being.

The loving embrace of the Goddess Tara radiates outwardly as Kindness, Compassion and Healing for All from worldly or spiritual concerns.

May the powerful blessings of Peace, Health, Wealth and Love be Yours.

May the prayers of all Bodhisattvas and the blessings of all Spiritual Beings enter your heart and hold in their hands all your precious needs. May all your needs be exactly what you intend and may your intentions move in you, from you and return to you with the strength and the power of Living your Life as Divinity Now! So be it!



" May the wicked become good,
May the good obtain peace,
May the peaceful be freed from bonds,
May the free set others free."
- Prayer of a Bodhisattva
Namasté
Om Tara Tare Tam Svaha
Pnum: 114462
Om Guru Om~I pray for everyone travelling or planning to travel that they be safe & travel in joy. May they be open-minded, accepting & tolerant of cultures & traditions everywhere they go. I pray too that my own travels to Egypt, UAE & Athens be blessed in the month of July 2019 as well. I welcome Spirit to enter me and use me as a beacon of Light, Love, Peace & Joy during my travels, & may I too be safe & blessed on my journey. Thank you.

Om Tara Tare Tam Svaha
Pnum: 114461
Sometimes, I just have these little bursts of love and joy and I have to come into the Temple to say "Hi!" I want this feeling for everyone, in little bursts, in big bursts, in long extended bursts, in infinite foreverness of bursts! May happiness & joy, compassion & peace be the common denominator of existence for all humanity. Aum Shantih Aum

Om Tara Tare Tam Svaha
Pnum: 114460
Aum Namah Shiva Aum Beloved Sri GuruDev Isa Mafu, thank you for blessing me with an absolute successful surgery. I pray in gratitude for the grace of access to free medical care easily. Thank you my Angels, Family, caregivers, Friends and Andre for your loving kindness and positive encouragement, thank you Mafu, Goddess and Spirits for uplifting my soul, thank you my precious body for your teaching and wisdom, thank you for my life and may this experience uplift the veil into the light. So be it


Back to Top